Remarkable Historic Photos of Magnificent West Adams Home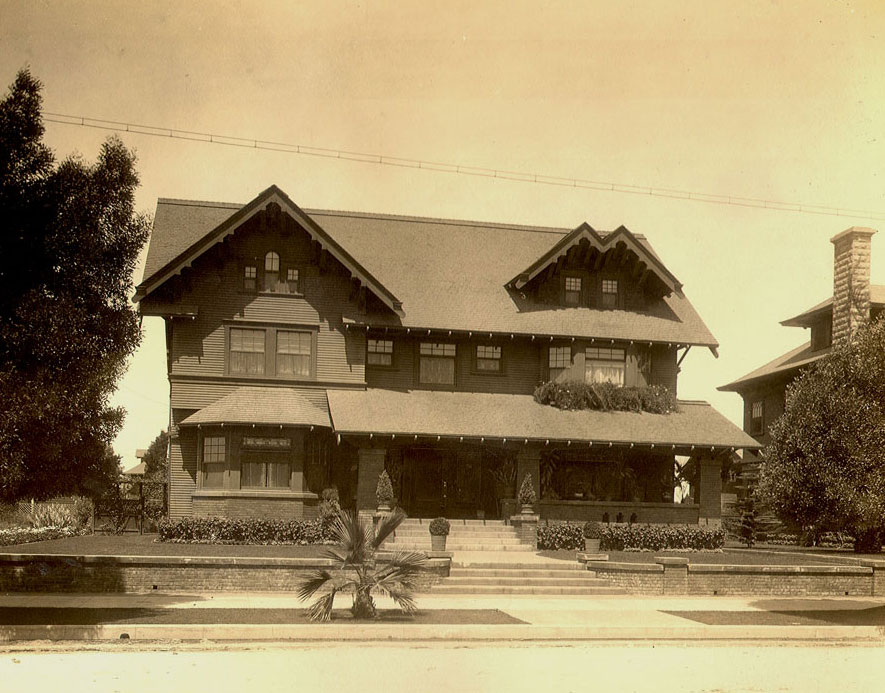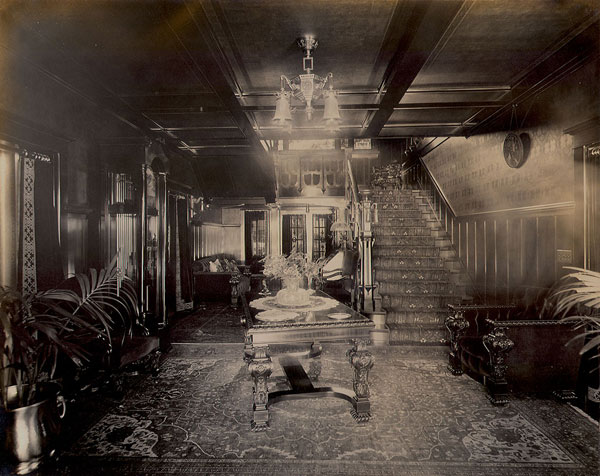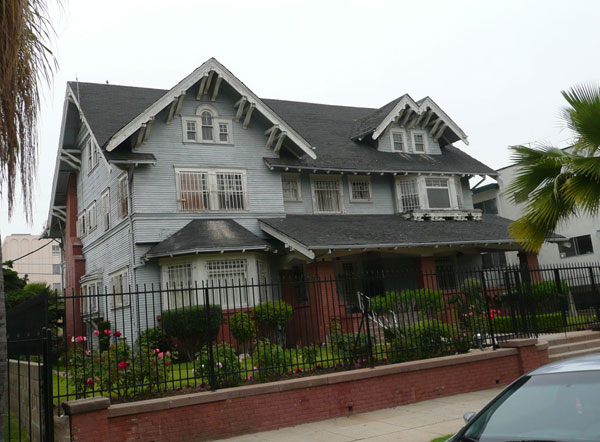 2241 S Hobart Blvd. today

Just south of the 10 Freeway, east of Western Avenue on Hobart Blvd., there stand a stretch of marvelous old houses. Usually what they looked like in their heyday a century ago is left to the imagination or at best one or two snapshots of the exterior. What a prize, then, when a descendant of one of the original owners approached us with an amazing album of 8 X 10 photos, more than fifty of them, not only of the exterior but of every room in one of the grandest of these homes, at 2241 S. Hobart. This 4,946 square foot Craftsman mansion was built in 1910 by Los Angeles merchant Benjamin Johnson, one of the founders of what is today the Grand Central Market on Broadway in downtown. Benjamin Johnson's great granddaughter, Katharine Free Liappas, received the album from her mother, Sarah Elizabeth Brown Free, and her grandmother, Estelle Marie Johnson Lovett. She estimates from the age of her grandmother in one of the photos that they were taken within a year of the house's construction, in 1910 or 1911. Today the house is owned by the First African Methodist Episcopal Church.
Obviously proud of their new home, the Johnsons had meticulous photographs taken of each room, of the backyard, and of the street. Large and detailed, though some showing their age with some striping and fading, the photos are almost a time machine window into a lost age. Most of the rooms are empty of people, but the collection is made poignant by the hundred-year-old picture of Estelle Marie Johnson as a vibrant teenager, the shot of a bedroom with a child's doll that belonged to a long gone little girl, and two of the exterior photos where a little girl in a white dress is standing, with a big bow in her hair. This is Dorothy Johnson, Estelle Marie's little sister and Katharine Free Liappas's great aunt. There is one photo in the set taken about ten years earlier than the others and in a different house. This is a late nineteenth-century portrait showing Minnie Barnes Guiteau Johnson with her elder daughter, Estelle Marie, as a very young child.
Below is a brief account of the life of Benjamin F. Johnson by his great granddaughter.
-- Leslie Evans
* * *
Benjamin F. Johnson, b. 1871, St. Paul, Minnesota, d. 1918 New York, New York
By Katharine Free Liappas

Benjamin Johnson built the house at 2241 S. Hobart Blvd., Los Angeles CA 90018, in 1910. The name of the architect is unknown. Benjamin Johnson and his wife, Minnie Barnes Guiteau Johnson, with their two daughters, Estelle Marie Johnson and Dorothy Johnson were the first residents. They lived in the house until the death of Benjamin Johnson in 1918.
Benjamin Johnson was a merchant who was educated at Los Angeles High School and USC. He arrived in Los Angeles at the age of five in 1876 when his father, Gen. Edward P. Johnson, moved the Johnson family from St. Paul to Los Angeles. After completing his education, Benjamin Johnson served in all departments the Los Angeles Furniture Company, of which his father had part ownership. Benjamin Johnson rose to the position of president of the company, which he held for two years until he sold his interest in 1909. Then with his brother, Edward P. Johnson, Jr, he founded the Los Angeles Public Market Company, which at that time was one of the largest wholesale public markets in the world, covering eighteen acres of land. The market extended from Sixth Street to the Santa Fe Railroad and from Alameda to Mills Street. It was the clearing house for all types of produce grown in Southern California. The remnants are now known as the Los Angeles Grand Central Market on Broadway. The Los Angeles Public Market stabilized and standardized central trading point prices and developed new methods for handling crops. Benjamin Johnson took a leading part in these accomplishments and was credited with advancing the development of California commerce throughout the United States.
Among his many other interests, he was an avid fan of theatre and had partial ownership in the original Belasco Theatre on Main Street where a repertory company was established. The company included the young Leo Carrillo who went on to a distinguished career as a character actor in film and television. The company actors and guest artists, like the great tragedienne, Helena Modjeska, were often guests at the Johnson home at 2241 S. Hobart Blvd. Benjamin Johnson was a veteran of the Spanish American War, where he served as captain and quartermaster in Teddy Roosevelt's Rough Riders. In that war, he saw action in both Cuba and the Philippines. At the time of his death of a heart attack at the age of forty-seven he had reenlisted in his regiment and was preparing to embark with the regiment for the European theatre of war. He received a funeral with full military honors.