Happy 100th!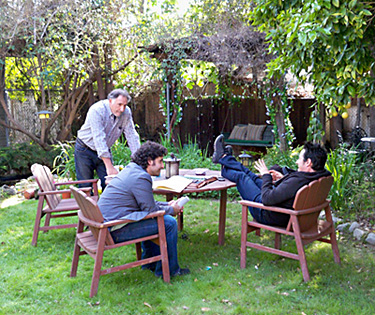 Judd Hirsh (left) discusses options with Numb3rs co-creator Nick Falacci at Gray Residence.
Many West Adams preservationists celebrate their home's centennial with a party. But for Ed Trosper and David Raposa, their home's 100th anniversary year was ushered in with another milestone event. In late March, CBS filmed the 100th episode of the TV series Numb3rs at the Trosper/Raposa home, known officially in preservation circles as the Gray Residence, Los Angeles Historic-Cultural Monument No. 600. >This historic house appears weekly on TV in Numb3rs as the reel-life "Eppes family residence." In the show, one brother, Don Eppes (Rob Morrow) is an FBI agent helped in his crime-solving by his math genius brother, Charlie (David Krumholtz). Charlie lives in his family's "Pasadena" Craftsman home with his father, Alan (Judd Hirsch), a retired city planner. The series first aired in January, 2005, and the 100th episode is slated to air on May 1, during May Sweeps.
In real life, attorney Lucien Gray and his philanthropist wife, Blanche, built this house in 1909 for the then-exorbitant expense of $8,600, double what many of the city's houses cost at the time. It was designed by architect Arthur S. Heineman, and is located at 2515 4th Avenue. Blanche Gray launched the first Community Chest Drive, the forerunner of today's United Way charity, from the dining room. The Gray family lived here for more than 50 years, and then sold the residence to Dr. Ruth Temple, a prominent black physician who was the first African-American woman to practice medicine in Los Angeles. Temple entered Loma Linda Medical School in 1913 as one of three female students in the class, and became the school's first black graduate in 1918. She settled on preventive health care as a specialty, and opened the first medical clinic in Southeast Los Angeles.