Back to the Future: WAHA's 25 Years of Preservation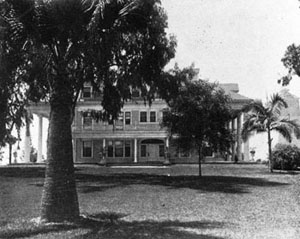 |left||0|The Childs Mansion in better days.|bottom||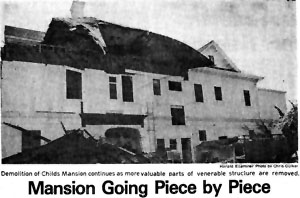 By Jean Frost
Seminal events have the capacity to redirect our history and to energize communities. Three decades ago, when Los Angeles residents were surprised by the demolition of a famed Adams Boulevard mansion, a revolution began in West Adams that continues today. A shocked community became a historic preservation-minded populace, which led in turn to the establishment, in 1983, of West Adams Heritage Association. >
The beginnings of WAHA's historic preservation activities grew out of the outrage and disbelief surrounding the razing of the beautiful Childs Mansion, a c.1899 Colonial Revival estate, in March 1978. On Monday morning, March 27, 1978, the Los Angeles Times bore the headline: "A City Landmark Falls to Bulldozers and Bureaucracy." The Childs Mansion was located on seven acres at the southwest corner of Arlington and Adams, where temporary bungalow structures are still sited. Its demolition happened swiftly and without notice. As reported in boldface in the Times: "Council, School Board, Heritage Panel Enact a `Comedy of Errors' Ending in Mansion's Demolition." The Childs Mansion was used as a home for orphaned children, was very well maintained, and the Los Angeles school board was to either utilize the historic building or find a sensitive purchaser. It was a designated city landmark.
Historic preservation efforts throughout late 20th century America have been galvanized by flash-point actions such as the 1963 demolition of the legendary beaux arts Penn Station in New York City. That demolition caught the preservation community napping. The universal outrage in that case led to the establishment of the New York City Landmarks Commission.
In West Adams, the community reaction to the Childs Mansion demolition forged preservation efforts and led to the founding of WAHA by a combination of longtime West Adams residents, an original wave of socalled "urban pioneers" in West Adams who had begun to purchase big, old houses in the area in the late 1970s, and a second wave of urban pioneers who were attracted by the growing recognition of West Adams' charming historic architecture. Together, these residents became committed neighborhood activists and the charter members of WAHA.
Over the past quarter century, WAHA has had its historic preservation wins – and losses. And it must be acknowledged that each of our preservation success stories are the result of committed volunteers spending days and weeks of their time engaged in research and advocacy. We count among our important successes the designation of Menlo Avenue as a National Register District, which resulted in the saving of and relocation of three of the District's contributing structures to adjacent parcels and subsequent adaptive reuse of those residences as senior congregant housing. Another major success was WAHA member-spearheaded community effort (over a 13-year period) to save the Joseph Dupuy Residence/South Seas House, for which WAHA along with a group of dedicated advocates have won several preservation awards. The South Seas House is now a City Historic Cultural Monument, and is in active use as a community center. A third success story was the funding of the relocation of the last remaining Victorian residence from the Staples Center development site, and its move to Bonsallo Avenue in University Park, where it was sold to a moderate income homeowner family through a Community Redevelopment Agency move-on project.
Some of our "wins" are fleeting. WAHA saved the Wells-Halliday Residence from a wrecking ball in 1989, although it is endangered by other factors again today. Ditto the Raphael Soriano-designed Glen Lukens residence, saved from demolition in 2006 but threatened by neglect to this day. And, some of our losses have been profound. We remember sadly the demise of the Pepperdine Mansion, designated as an individual National Register landmark but nonetheless not only turned down by the City of Los Angeles as a Monument but also approved for demolition without acknowledging the federal landmark status.
Today, it is hard to imagine a WAHA without its HPOZs, its National Register Districts, and the many Historic Cultural Monuments. But West Adams' current status as home to Los Angeles's largest collection of designated landmarks and historic districts is the direct result of energized members and residents fighting for neighborhood pride and recognition. WAHA was committed to a strategy of researching, identifying, nominating, designating and, if necessary, litigating. The strategy has proven to be a winning preservation tool but the effort is far from finished. As reported throughout this issue starting on page 6 many of WAHA's historic properties and sites are still at risk. Members must continue support the WAHA mission and volunteer their time. Success is never a given and can never be assumed when dealing with historic properties
In 1978, the Los Angeles Times article by reporter Cathleen Decker documented the sequence of tragic bureaucratic blunders and misspent good intentions. There are no ironclad answers to protecting historic properties from the bureaucratic bungling witnessed in the 1978 demolition of the Childs Mansion. Although we in West Adams have come a very long way, with approximately 125 designated Los Angeles Historic Cultural Monuments, seven National Register Districts and the seven HPOZs, with an eighth pending, it's still true today that even designated historic structures in West Adams are still vulnerable. Careful stewardship of our architectural and cultural history cannot be assumed.
On May 31st, WAHA celebrates National Preservation Month with an event open to all members at the historic Union Theater, home of the Velaslavasay Panorama, 1122 West 24th St. (see details on page 1.) WAHA will begin its 25th birthday year with a party on that day, plus we'll take a long look back at both our preservation wins and losses. A view of the past informs newer members and reminds those who were present for the wins and losses. As preservationists, we should not forget our own past but must instead build on it to avoid future losses.