Eddy "Rochester" Anderson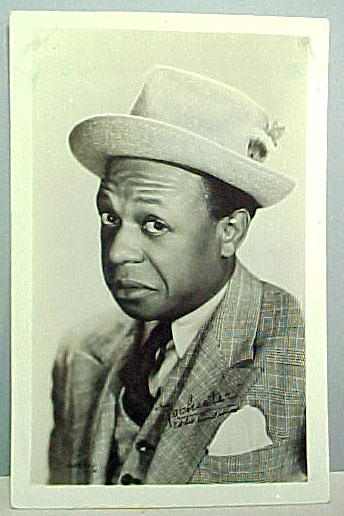 Gravel voiced actor best known as Jack Benny's valet.
1905-1977. The son of a minstrel and circus tightrope walker, Eddie Anderson developed a gravel voice early in life which would become his trademark to fame. He joined his older brother Cornelius as members of "The Three Black Aces" during his vaudeville years, singing for pennies in the hotel lobby. He eventually moved his way up to the Roxy and Apollo theaters in New York , which led to the Los Angeles Cotton Club in the west.
He began to appear in films, typically in servile bits, his best being the featured role of "Noah" in The Green Pastures (1936). He continued in that vein until a chance pairing with comedy star Jack Benny on his radio program in 1937 put him on the map. He only had a bit part on Benny's Easter show as a Pullman porter, but his scratchy voice, superb timing and comic reaction to Benny's banter earned him a fixed spot. He then was heard as Benny's personal valet, Rochester Van Jones, and the role became so popular that he became billed as Eddie " Rochester " Anderson .
In between radio assignments, he found the time to appear in both film drama and comedies, including You Can't Take It with You (1938), Kentucky (1938), Jezebel (1938), and three with Benny - Man About Town (1939), Buck Benny Rides Again (1940) and Love Thy Neighbor (1940). After the films Brewster's Millions (1945) and The Show-Off (1946), Anderson concentrated on his partnership with Jack Benny, following him into television and working with him for a total of 23 years. He returned to the screen for It's a Mad Mad Mad Mad World (1963) but ill health eventually forced him into retirement. He died of long-standing heart problems in 1977.