Roscoe "Fatty" Arbuckle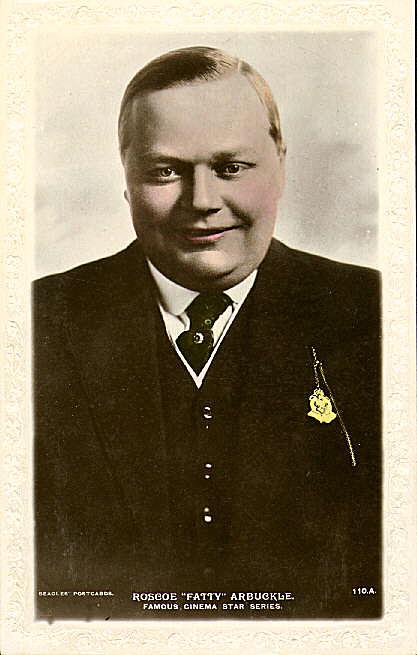 Silent film star whose career was destroyed by scandal.


1887-1933. Roscoe Conkling Arbuckle was born in Smith Center , Kansas . The Arbuckles moved to Santa Ana , California , in 1888, where his mother died the next year. His father abandoned him at a young age. Roscoe survived by doing odd jobs and broke into Vaudeville as a singer and dancer.
In 1909, he appeared in his first movie, "Ben's Kid." In 1913, after marrying and touring the Far East , Arbuckle joined Mack Sennett's Keystone film company. He became immediately popular with his first Sennett film, "The Gangsters" (April, 1913). He was the first of the silent comedians to direct his own films, starting with "Barnyard Flirtations" (1914). He then made the "Fatty & Mabel" series of short films with Mabel Normand, Sennet's girlfriend.

Roscoe Arbuckle left Keystone at the end of 1916 to accept a contract with Joseph Schenck with an unprecedented level of artistic control. On a visit to New York he met Buster Keaton in New York and offered him a part in the film "The Butcher Boy." The two men became close friends, a friendship that was sustained for the rest of Arbuckle's life. Arbuckle's most highly regarded work was done for Schenck's Comique company. Films like "Coney Island," "Out West," "The Bellboy," "Goodnight Nurse!," "The Sheriff," "Love," "Back Stage," and "The Garage," were wildly popular at the time, and are still considered comedy classics. Arbuckle next switched to Paramount , which offered him a million dollar a year contract.

In September 1921, Arbuckle took a three-day vacation to San Francisco . During a small party in his hotel suite a young woman named Virginia Rappe fell ill with sharp stomach pains. A doctor was called. Four days later she died of a ruptured bladder. Arbuckle was arrested on September 11 and charged with manslaughter. The press printed sensational stories that Arbuckle had raped Rappe with a bottle. He was tried twice, resulting in hung juries both times. A third jury acquitted him, declaring that "a great injustice has been done him," but his career was ruined.

Arbuckle was blacklisted in Hollywood for the next eleven years. In 1925 he was allowed to direct films using a pseudonym, but was not offered an acting job again until 1932. He then completed six two-reel comedies for Warner Brothers and was offered a three-year contract. He died in his sleep the next night at the age of 46. Roscoe Arbuckle lived at 649 West Adams Blvd. , between Figueroa and Hoover . He had bought the house from Theda Bara in 1919 (see entry).