Theda Bara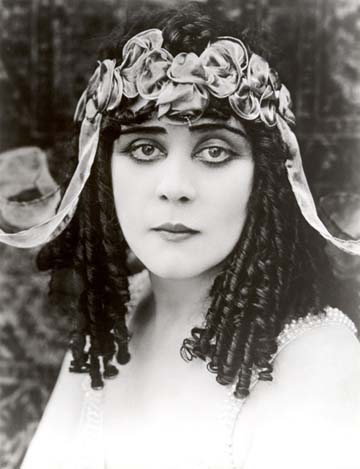 Silent film star known as "The Vamp."


1885-1955. Silent film star, known as "The Vamp" for her uninhibited sexy roles. Although her studio claimed that she had been born in Egypt to an Italian artist and a French actress, she was actually born in Avondale, a suburb of Cincinnati, Ohio, as Theodosia Goodman to Bernard Goodman, an immigrant Polish Jewish tailor, and Pauline de Coppett, a Swiss-German immigrant who became co-owner of a wig makers shop.
She had a happy childhood, and, uncommon for women at that time, attended the University of Cincinnati for two years. Throughout her life she read widely, particularly in philosophy and psychology. She worked in local theater productions from a young age, and dropped out of university to move to New York City in 1905 to break into live theatre. She spent the next nine years unsuccessfully trying to build a stage career. Theodosia Goodman's breakthrough was in silent films, when in 1914 she got the part of the vampire in William Fox's film version of the Broadway hit "A Fool There Was" (released in January, 1915).
Briefly known professionally as Theodosia de Coppett, she soon changed it to Theda Bara. An urban legend discerned that her stage name could be an anagram for "Arab death," but Theda was her childhood nickname and Bara was her maternal grandmother's middle name. Theda was an instant success. She made more than 40 feature films between 1914 and 1926, of which complete prints of only three still exist. Most of these were made for William Fox, starting with "A Fool There Was" and ending with "The Lure of Ambition" in 1919. At the height of her popularity she was ranked as the third most popular American screen personality, outranked only by Mary Pickford and Charlie Chaplin.
Until 1917 Theda Bara made her films on the East Coast, moving to Los Angeles only under protest. Theda Bara lived at 649 West Adams Blvd. , between Figueroa and Hoover , a house that she bought from Roscoe "Fatty" Arbuckle (see entry). She was typically cast in exotic roles in racy Victorian melodramas and appeared in virtually transparent dresses as the evil seductress. The Fox studios presented her at press conferences wrapped in veils, carrying a live python, or eating raw meat, and other such over the top posing. Her films carried titles such as "The Unchastened Woman," "When Men Desire," "The Siren's Song," "When a Woman Sins," and "The Vixen." One reason so few of her films have survived is that with the adoption of the puritanical Hays Code in 1930 most of them were prohibited from being shown for decades and the original prints decomposed. Bara fought for better parts, and she sometimes got them, playing the great heroines of history and literature, such as Cleopatra, Salome, Carmen, Juliet, and Madame DuBarry. Her personal favorites were as an heroic Foreign Legion girl in "Under Two Flags" (1916) and as an innocent Irish peasant girl in "Kathleen Mavourneen" (1919). This last led to protests, and even riots and bomb threats by Irish and Catholic groups protesting casting a Jewish woman as an Irish heroine. The film was withdrawn from circulation.
After Kathleen Mavourneen, Theda Bara only made three more films, in 1921, 1925, and 1926. In 1921 she married Charles Brabin, a film director, and they moved to Beverly Hills . They remained happily married until Theda's death in 1955. They traveled widely and entertained many people from the film community at their home through the 1950s. Since all of her films were from the silent era there is no recording of her voice.
Theda Bara's life is chronicled in "Vamp: The Rise and Fall of Theda Bara," by Eve Golden (Vestal, New York : Emprise Publishing Company).