Louise Beavers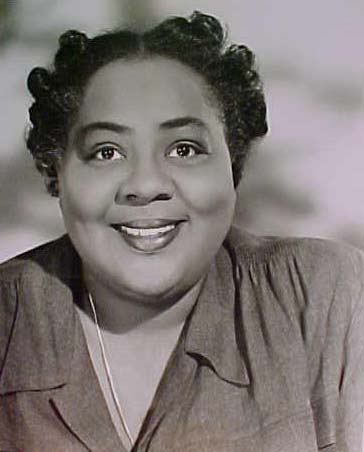 African American actress.


1902-1962. Louise Beavers was born in Cincinnati , Ohio on March 8, 1902 and started her performing career as a singer in a minstrel show. She had a beautiful voice and sang in some of her films. Her family moved to California , where she attended Pasadena High School . Her entree into Hollywood was as maid to silent film star Leatrice Joy. With Ms. Joy's encouragement, Louise Beavers began accepting small film parts in 1923, and three years later became a full-time performer when she joined the Ladies Minstrel Troupe. After co-starring in the 1927 Universal remake of Uncle Tom's Cabin, Beavers worked steadily in films, usually playing maids, housekeepers and "mammies."
With the coming of sound films, Beavers' career took off, and between 1929 and 1960, she appeared in more than 100 films. She was one of the most frequently employed black actors of her day. Two oddities regarding her screen persona were: she did not have a southern accent and had to develop one; she was not a fat person and had to keep up her weight for her roles. Beavers' most famous and noted role was her portrayal of Delilah Johnson, the housekeeper/cook whose employer, played by Claudette Colbert, transform her into an Aunt Jemima-like celebrity in the 1934 film "Imitation of Life." One of the film's main conflicts was that between Delilah and her light-skinned daughter Peola (played by Fredi Washington ), who wanted to pass for white. Imitation of Life was the first time in American cinema history that a black woman's problems were given emotional weight in a major Hollywood motion picture.
Among Louise Beavers' more than 130 films were: "The Gold Diggers 1923" (1923) in a Bit Part, her film debut; "Uncle Tom's Cabin" (1927); "Coquette" (1929) as Julia; "Freaks" (1932) as a Maid; "She Done Him Wrong" (1933) with Mae West, as Pearl; "Imitation of Life" (1934) as Aunt Delilah; "West of the Pecos" (1935) as Mauree; "General Spanky" (1936) with Spanky McFarland and Our Gang, as Comelia; "Brother Rat" (1938) as a Maid, Jenny; "No Time for Comedy" (1940) with James Stewart, as Clementine, an Actress and Maid; "Belle Starr" (1941) as Mammy Lou; "Tennessee Johnson" (1942) as Addie; one of my favorites of her roles "Holiday Inn" (1942) as Mamie; "Mr. Blandings Builds His Dream House" (1948) with Cary Grant, as Gussie; "The Jackie Robinson Story" (1950) as Jackie's Mother; "Tammy and the Bachelor" (1957) as Osia, and "All the Fine Young Cannibals" (1960) as Rose, her last film role. On television she appeared as a housekeeper in the early situation comedies Beulah (1952-53) and The Danny Thomas Show (1953-54). She died of a heart attack on October 26, 1962 in Hollywood , California at age 60. She was inducted posthumously into the Black Filmmakers Hall of Fame in 1976.