Busby Berkeley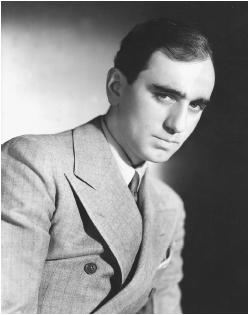 Film director and choreographer of lavish Hollywood dance numbers.


1895-1976. William Berkeley Enos, better known as Busby Berkeley, was one of the greatest choreographers of the movie musical. He was born in Los Angeles to actor parents. His father died when he was a small boy and he formed a lifelong close attachment to his mother. Berkeley served as a lieutenant in the U.S. Army in World War I, where he directed parades, and after the cease fire staged camp shows for soldiers. Back home he became a stage actor and assistant director in small acting troops. His first big success was as dance director for Florence Ziegfeld's production of "A Connecticut Yankee on King Arthur's Court." Eddie Cantor, who starred in the long running Ziegfeld show "Whoopee!", suggested Berkeley for the dance routines in its film version, and Ziegfeld agreed.
In Hollywood , Berkeley objected that dance directors did not control the camera or the editing. He convinced Samuel Goldwyn to let him take over direction of the dance sequences. One of the first decisions he made was to use only one camera - he never used more in his films - and to show close-ups of the chorus girls. His first hit film was " 42nd Street " (1933). Between 1933 and 1937 Busby Berkeley created musical numbers for a series of highly popular films, including "Lullaby of Broadway" and "Gold Diggers of 1935." In each film he used more dancers, reaching 150 in Gold Diggers. After 1938 he worked at MGM, where he choreographed the final number from "Broadway Serenade" (1939) with Jeanette MacDonald. As a director and choreographer, he worked on four pictures with the teenage stars Judy Garland and Mickey Rooney. He also choreographed the Fascinatin' Rhythm finale for MGM's "Lady Be Good" and directed Gene Kelly in his first picture, "For Me and My Gal." Berkeley had a lifelong problem with alcohol, and was narrowly acquitted of murder after two trials in 1935 following a head-on crash that killed two people when he had been driving drunk on the Pacific Coast Highway .
Busby Berkeley 's career declined in the fifties but had a last high point when he was asked to return to Broadway and supervise the dance direction in the revival of Vincent Youmans' musical comedy "No, No, Nanette" in 1971. He was married six times. He lived at 3500 W. Adams Blvd. , the former home of wine magnate Secundo Guasti.