Lucien Napoleon Brunswig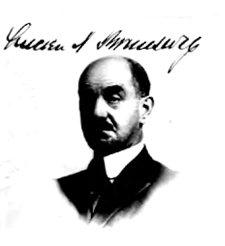 |top||Passport photo courtesy of Bruce Jones|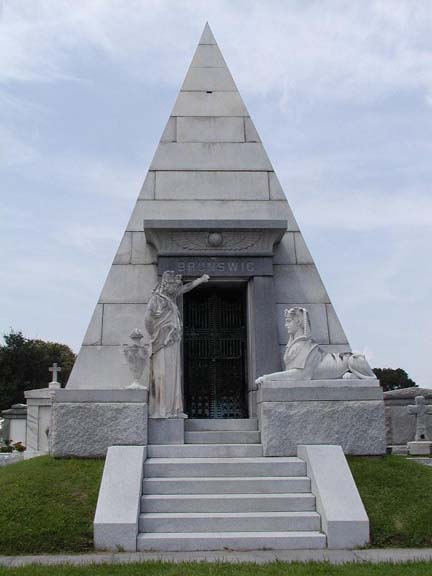 |bottom|Brunswig tomb at Angelus-Rosedale cemetery|

Founder of giant pharmaecutical company.


1854-1943. Born in Montmedy, France, in the Meuse district. Brunswig emigrated to the United States, where he worked as a druggist in Fort Worth, Texas, in the late 1870s. He moved to New Orleans, where he married Annie Mercer (1857-1892). They had a son, Lucien Mercer Brunswig, and a daughter Annie, after her mother. In 1887 Brunswig founded a pharmaceutical distributing company. Their son died just before his 10th birthday, in April 1892, and Lucien Brunswig's wife Annie died a month later.
Lucien Brunswig came to Los Angeles in 1903 and became a partner in a local drug company. At some point he remarried to Marguerite Wogan (1862-1946), a widow from New Orleans, though we have not been able to locate the date of that marriage or where it took place. One source says that Marguerite arrived in Los Angeles in 1908.
Lucien Brunswig donated the School of Pharmacy at USC and was one of six people who gave $5,000 to Mrs. Christine Sterling to help transform Olvera Street into a Mexican marketplace. In 1907 he bought out his partner and created the Brunswig Drug Company with branches in Phoenix, Tucson, and San Diego. Among the company's earliest buildings are three that are still standing on the west side of Main Street, across from the Pico House at El Pueblo de Los Angeles Historical Monument. He also owned the Brunswig Building on 2nd Street, which was demolished in 1968. Lucien Napoleon Brunswig became the city's largest wholesale drug supplier. He sold commercial medications and patent medicines that he invented himself and supplied to many city pharmacies.
Brunswig, already 63 and too old for military service, spent eight months in France in 1917 at the height of World War I for the "Friends of France." He wrote a series of essays about this experience, including descriptions of war damage, reconstruction efforts, sketches of prominent personalities, and the role of the American Red Cross in France. On his return to Los Angeles he served as vice chair of the committee that created the statue of the World War I "Doughboy" that still stands in Downtown Los Angeles' Pershing Square.
Lucien and Marguerite bought a 1907 house at 3528 W. Adams Blvd. It had 16 rooms with 6 bedrooms, a ballroom, and a top-floor conservatory. The gardens included two Romanesque levels, with reflecting pools, fountains, and imported statuary. A tennis court and pavilion were on the fourth level and the stables were on the bottom, or fifth level.
Brunswig was also a founder of the Cercle Catholique Francais, a local French-American volunteer organization that provided aid to recent immigrants from France. Coincidentally, when Robert Furlong, the mayor of Vernon (see entry), left West Adams in 1958, he sold his house on Van Buren Place to Brunswig's Cercle Catholique Francais.
After Lucien Brunswig's death his Brunswig Drug Company was merged in 1969 with the Bergen Drug Company to form Bergen-Brunswig. This in turn merged with the AmeriSource Health Corporation in 2001 to form AmerisourceBergen, a $40 billion a year operation.
Lucien Napoleon Brunswig is buried in the Brunswig Mausoleum, an unusual pyramid structure, in the Metairie Cemetery, New Orleans. We have been unable to locate a photo of him, but there are numerous ones of the mausoleum. The interments in the mausoleum besides Lucien include his first wife, Annie Mercer Brunswig, their daughter Annie Brunswig Wellborn (1881-1982) and her husband, and a Henrietta Rosalie Brunswig (1879-1963), presumably a third child and the first born of Lucien and Annie Mercer.