Doctor Margaret "Mom" Chung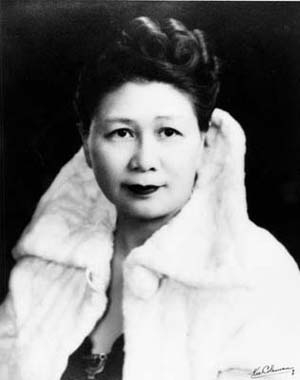 First American-born Chinese woman physician. "Adopted" 1500 American flyers and submariners during World War II.
1889-1959. The first-known American-born Chinese woman physician. Margaret Chung was born in Santa Barbara , California , the eldest of eleven children. Her parents emigrated separately from China in the 1870s. Her father worked as a merchant, then went bankrupt and became a fruit peddler, dairyman, and ranch foreman. Her mother was rescued from a brothel. Both became invalids when Margaret was very young, and Margaret took over supporting the family by the time she was ten, as well as caring for her younger siblings and nursing her mother who was slowly dying of tuberculosis. She drove a horse-drawn freight wagon alone when she was ten and later worked 12-hour days in a Chinese restaurant when she was in the seventh grade. The family moved first to Ventura , then to the East Adams section of Los Angeles near San Pedro Street .
Margaret managed to put herself through college and medical school by winning scholarships, selling medical supplies, and lecturing on China . In 1916 she graduated from the University of Southern California 's College of Physicians and Surgeons, becoming the first American-born Chinese woman physician in the United States . After a brief stint at Kankakee State Hospital in Illinois , she returned to California and worked as a surgeon at the Santa Fe Railroad Hospital . She also developed a clientele in the Hollywood crowd, and removed Mary Pickford's tonsils. Chung moved to San Francisco in 1922, where she worked as staff physician at the Wiltshire Hotel and opened a medical office in Chinatown .
In 1931, Dr. Chung became friends with a young aviator from Berkeley. Soon she was entertaining a group of his Navy Air Reserve friends for dinners. This grew into an American aviators' club called the "Fair-Haired Bastards," which became famous in World War II. She was known to the flyers as Mom, and "adopted" them, numbering her "sons" and giving each a silver ring with a jade Buddha.
When Japan invaded China in 1937, Margaret Chung began making speeches to organizations and at local colleges in support of China . After the Japanese attack in December 1941, she helped send emergency medical supplies to Pearl Harbor , for which she received a citation from President Truman. During the war, Doctor "Mom" Chung added a section for nonflyers, called Kiwis (for a flightless bird), and the Golden Dolphins, a submarine auxiliary. High ranking officers attended her Sunday dinners where from 75 to 100 military personnel came to her house each week. By her rules the men did the dishes and mopped the floors, including Admiral Chester Nimitz, commander of the U.S. Pacific Fleet. Concerned above all with promoting U.S. support to China in its struggle with the Japanese invaders, Chung recruited the first 200 American aviators for the renowned Flying Tigers.
By the end of the war the Bastards, Kiwis, and Dolphins included 1500 "sons," some of whom were U.S. senators and congressmen. Using these connections, Doctor "Mom" Chung virtually invented the WAVES, the women's auxiliary of the U.S. Navy, holding lobbying meetings in Washington with her "sons" and committing them to backing the idea. Margaret Chung was never given public credit for this achievement, or even permitted to join the WAVES, which she ardently wanted to do. The government secretly blacklisted Chung because they suspected that she was gay. Her sexual orientation has never been established, but she had friends who were lesbians and she had a long and very close friendship with the Jewish singer Sophie Tucker. The two exchanged very affectionate notes and letters, but even Chung's biographer is uncertain of the character of their relationship.
When Margaret Chung died in 1959 her pallbearers included Admiral Chester W. Nimitz, Mayor George Christopher, and famed conductor Andre Kostelanetz. Her life is chronicled in the book "Doctor Mom Chung of the Fair-Haired Bastards: The Life of a Wartime Celebrity" by Judy Tzu-Chun Wu ( University of California Press , 2005).