Edward L. Doheny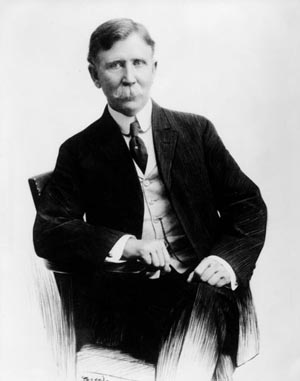 Once the richest man in America. A central founder of West Adams.


1856-1935. A central figure in West Adams history, Edward L. Doheny rose from years as a drifter to become the richest man in America , only to spend his last years in prolonged court battles on charges of bribery and corruption in the famous Teapot Dome scandal. He built several of the landmark buildings of West Adams , including the St. Vincent de Paul Catholic church at Figueroa and Adams, the Chester Place park that is now the campus of Mt. St. Mary's College, and the Doheny Library on the USC campus.
Edward Lawrence Doheny was born in Fond du Lac , Wisconsin . His father was an Irish laborer who had immigrated to the U.S. via Canada to escape the Irish Potato Famine. Edward spent twenty years wandering in Mexico and the American Southwest, where he worked as a mule driver, gold miner, fruit packer, singing waiter, and gunslinger. According to some reports he had also been a pimp, and had killed a man in Laredo , Texas . He came to Los Angeles in 1892 at the age of 36, with a wife, a sick daughter who would die at the age of 7, and dead broke.
Doheny, his first wife Carrie, and his daughter were living in a downtown boarding house where they had not paid rent for some time when one day he noticed an African American wagon driver passing by with a load of pieces of some dark greasy substance. He stopped the driver and asked what it was. " Brea ," was the reply - tar in Spanish. It came from an empty lot near Westlake Park . Doheny took a streetcar to the spot and saw black ooze. A nearby factory was using the material for fuel. Doheny persuaded a friend to put up $400 to lease a three-lot piece of land nearby and the two started digging. Using a sharpened tree trunk as a drill, in April 1893 at 200 feet they struck oil.
Selling the oil, the pair raised money to buy land for oil exploration all over the Los Angeles area. Others joined the craze and in a few years there were more than 3,000 oil wells in the city. His son Edward "Ned" Doheny Jr. was born in Los Angeles in 1893.
In 1900 Doheny's wife Carrie disappeared. Later that year he remarried, to Estelle Betzhold, a former telephone operator. In 1901 they moved to West Adams , where they purchased a French Gothic chateau designed in 1899 by Theodore Eisen and Sumner Hunt at 8 Chester Place for $120,000 in gold coins. Doheny developed a large private park on Chester Place .
Doheny went to Mexico looking for more oil. He leased a million acres around Tampico on the Gulf of Mexico, and his Mexican Petroleum Company became the largest oil company in Mexico . Mexican Petroleum built roads, cities, railroads, and pipelines. During the Mexican Revolution Doheny hired his own private army to protect his Mexican oil fields, which by 1922 had brought him $31 million. By 1925, Doheny's net worth passed $100 million and he was richer than John D. Rockefeller.
In 1921, Doheny persuaded his friend, President Warren Harding's Secretary of the Interior Albert B. Fall, in exchange for a suitcase with $100,000 in cash delivered to a Washington Hotel by Doheny's son Ned, to lease to Doheny's oil company large holdings of oil-rich lands owned by the U.S. Navy at Elk Hills in Kern County , California . Part of this deal included construction of storage facilities at Pearl Harbor, Hawaii , and an exclusive government contract for Doheny to ship the oil from Elk Hills to Pearl Harbor.  A similar deal was struck at the same time between Secretary Fall and oilman Harry F. Sinclair for a less valuable Navy oil property at Teapot Dome, Wyoming - for which Sinclair gave Fall $300,000.
The Teapot Dome scandal broke in 1924 with indictments of Fall, Sinclair, and Doheny. This resulted in a series of trials that lasted until 1930. Doheny's endowment of the construction of the beautiful St. Vincent de Paul church at Adams and Figueroa in 1924 was widely regarded as an effort to retain the good graces of the city and of the Catholic Church in the midst of the national scandal. The U.S. Supreme Court in 1927 invalidated the Elk Hills and Teapot Dome leases as having been corruptly obtained. Albert Fall was convicted of taking Doheny's bribe, but amazingly Doheny, tried twice, was acquitted of having given it. Doheny's first trial was on a charge of conspiracy. On his acquittal 400 Los Angeles supporters met his train and the mayor of lauded Doheny as a "great American patriot."
While awaiting the start of his second trial, for bribery, Doheny faced a major family tragedy. He had built the landmark Greystone on 22 acres of Beverly Hills land for his son Ned as a wedding present. On the night of February 16, 1929, Ned Doheny and his secretary Hugh Plunkett were shot to death at Greystone while the elder Doheny and the family doctor were in the house. The official story was the Plunkett had mental problems, killed Ned Doheny and then committed suicide, but there were many other theories of what had happened that night and the killings were never satisfactorily explained - it was claimed, for example, that the bodies were moved to a different room and that four hours elapsed before the police were called.
Edward Doheny was acquitted again, of the bribery charge, but was ordered by the courts to repay $47 million in settlements, taxes, and penalties. He was inundated by lawsuits by stockholders in his companies, and became a reclusive invalid at his house at 8 Chester Place for the last three years of his life. His reputation never recovered from the years of scandal. On his death he left $85 million. His wife Estelle willed the Chester Place property to the Catholic Church at her death in 1958. It was donated by the church to Mt. St. Mary's College.
Edward Doheny's life is chronicled in the book "Dark Side of Fortune: Triumph and Scandal in the Life of Oil Tycoon Edward L. Doheny" by Margaret Leslie Davis (UC Press, 1998).