Wyatt Earp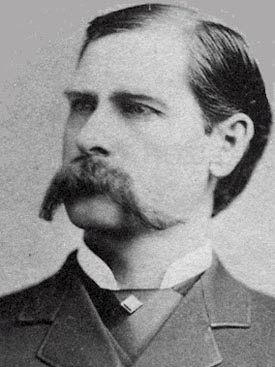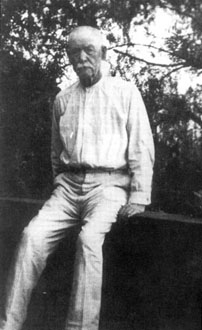 |left| Wyatt Earp |right| 1929, at 4004 W. 17th St.

One of the Old West's most famous lawmen.


1848-1929. Wyatt Berry Stapp Earp was one of the Wild West's most colorful and famous lawmen, best remembered as a survivor of the storied and much filmed encounter known, somewhat incorrectly, as the gunfight at the OK Corral, which took place in Tombstone, Arizona, in October 1881. Wyatt Earp spent his last years in West Adams, Los Angeles, living with his common-law wife Josephine Sarah Marcus Earp, in a bungalow at 4004 West 17th Street, between Arlington and Crenshaw and Venice and Washington Blvd.
Wyatt was one of 8 children of Nicholas Porter Earp and Virginia Ann Cooksey. He was born in Monmouth, Illinois, on March 19, 1848. The parents moved often and far, and their children when grown followed their example. The family lived for a while in Pella, Iowa, then left by wagon train for California in 1864. Brothers Virgil and Wyatt worked as stage drivers for a San Bernardino freight company, driving a run that went to Salt Lake City.
Later the family moved to Lamar, Missouri, in 1869, where the father, Nicholas, became constable. When Nicholas was elected Justice of the Peace, Wyatt took his job as town constable. Wyatt Earp's only documentable legal marriage was to Urilla Sutherland in Lamar in January 1870. She died in childbirth.
Wyatt was indicted but never tried for horse theft in Indian territory in Arkansas in November 1871. He left the area and moved on to Wichita, Kansas, where he joined the police force in 1875. From there he went to Dodge City where he worked as a policeman during the years 1877-79, and spent some of his time in Fort Worth, Texas. He was made assistant marshal of Dodge in 1878.
On a trip to Griffin, Texas, on the trail of train robber Dave Rudabaugh, Wyatt Earp became friends with John "Doc" Holliday (1851-87). Holliday had completed his training as a dentist in Atlanta, Georgia, in 1872. He almost immediately developed tuberculosis. He went west to Texas for his health but quickly found he was unable to practice because of his illness. Holliday turned to card playing to make a living and, knowing the risks of such a profession, trained himself in the use of guns and knives. Expecting, wrongly, that he would die in a few months, Holliday was unafraid to take reckless chances. Leaving a string of bodies behind him, he fled to Colorado and Wyoming, but was back in Texas at Griffin when Wyatt Earp arrived. After he killed another man with a knife in a poker game, Holliday was rescued from a lynch mob by his lover, "Big Nose" Kate, and hastily headed for Dodge City.
Tombstone
Meanwhile, Wyatt's older brother Virgil moved to Prescott, Arizona, in the fall of 1877 with his wife Allie. He first worked as a stage driver. After he joined a local sheriff in gunning down a group of outlaws he was elected constable in November 1878. The next year Virgil was named Deputy U.S. Marshall for Pima county, Arizona Territory. He was sent to the new silver mining town of Tombstone, where he was the senior law enforcement figure, sharing authority with the city marshal (chief of police) and local sheriff. This was a great opportunity and his brothers packed up to join him. Morgan left his job as a policeman in Butte, Montana, and arrived in Tombstone in 1880. Wyatt came in from Dodge City with his common-law wife Mattie (Ceelia Ann Blaylock). He became a deputy sheriff in Tombstone in July 1880. He also invested in the Comstock Mine. Morgan worked for Wells Fargo as a shotgun messenger. Wyatt also bought an interest in the Oriental Saloon, where he gambled frequently.
While in Tombstone, Wyatt broke with Mattie Blaylock. He began an affair with Josephine Sarah Marcus (1861-1944), a San Francisco actress, who had been living with the local sheriff, Johnny Behan, making enemies of the two men.
Josephine Marcus was born in Brooklyn to German Jewish immigrants Hyman and Sophia Marcus. Her family moved to San Francisco when she was seven. At fifteen she ran away from her staid Jewish family to join Pauline Markham's touring company performing Gilbert and Sullivan's "H. M. S. Pinafore." In Arizona she met the dashing Johnny Behan, who followed her back to San Francisco to court her after Josephine had returned home. Josephine then went with Behan to Tombstone, where he became the sheriff of Cochise County, which included Tombstone. She lived with Behan for a year. She had only recently broken up with him when she fell in love with Wyatt Earp. She and Wyatt remained together for the rest of Wyatt's life, almost fifty years. Though there may not have been a formal marriage Josephine was always presented as Wyatt's wife, and after his death left behind two manuscripts incorporated in a book entitled "I Married Wyatt Earp."
The city marshal, effectively the local chief of police, Fred White, was killed in October 1880 and Virgil was given his job, at first temporarily and then permanently in June 1881. The town was divided between law-abiding citizens and a semioutlaw faction called the Cowboys led by "Curly Bill" Brocious, the Clantons, and the McLaurys. Sheriff Behan sided with the Cowboys, the Earps with the more law-abiding citizens.
The town adopted an ordinance prohibiting carrying firearms within the town limits. The October 26, 1881, OK Corral fight, which actually took place in an empty lot down the street next to Fly's boarding house, was over enforcement of this rule. In the much-told story, Virgil, backed by his brothers Wyatt and Morgan, and with Doc Holliday walked down to the empty lot where they confronted Ike and Billy Clanton, Tom and Frank McLaury, and Billy Claiborne. Virgil and Morgan were wounded; Billy Clanton, Tom McLaury, and Frank McLaury were killed. According to witnesses, Doc Holliday and Morgan Earp drew first. Billy Clanton and Frank McLaury were armed and had threatened to kill the Earps; Ike Clanton was unarmed and tried to run away. Supporters of the Cowboys later claimed that Tom McLaury was unarmed while supporters of the Earps claimed that he was the one who shot Morgan Earp and that friends of McLaury removed his gun from the scene after he was killed. Sheriff Behan charged the Earps with murder, but they were acquitted after a 30-day trial.
The Cowboys sought revenge on the Earps. On December 28, Virgil was fired on from ambush by three men with shotguns in the dark on a Tombstone street. His left elbow was destroyed, crippling him for life. On the night of March 18, 1882, Morgan was assassinated by a shot in the back from outside through the glass door of a saloon where he was playing billiards. At an inquest the next day a witness identified the murderer as Frank Stillwell, one of Sheriff Behan's former deputies and an associate of the Clantons.
On March 20 in Tucson, Wyatt and Doc Holliday put Vigil and his wife, with Morgan's body, on a train to their parents in Colton, California. As the train left, Wyatt spotted Frank Stillwell. He followed him and shot him dead.
The Earp party returned to Tombstone where they organized a posse of dubious legality and went on what has been called the Earp Vendetta Ride, tracking down and killing at least four of the Cowboys who had shot Virgil and killed Morgan. Presented by the Earps as a lawful effort to arrest criminals, the posse took no prisoners. The dead included Curly Bill Brocious, the best known of the outlaw faction. Meanwhile Sheriff Behan recruited his own much larger posse, made up mostly of accused cattle rustlers and Cowboy enemies of the Earps. The two groups never met.
A court in Tucson issued murder indictments against Wyatt Earp and several of his group for the killing of Frank Stillwell despite support for the Earp side by acting territorial governor John Gosper and U.S. Marshall Crawley P. Drake. The Earps and Doc Holiday left the state and went to Colorado, where the governor refused to extradite them, ending the legal matter. John Ringo, the surviving leader of the Cowboys, was murdered under mysterious circumstances whle the Earps were in Colorado. Josephine after Wyatt's death said she believed that Wyatt and Doc Holliday returned to Tombstone briefly to kill Ringo.
Idaho, San Diego, the Harquahala Mountains, San Francisco, and Alaska
In 1884 Wyatt and Josephine, as well as his brothers James and Warren, who were not involved in the famous shootouts, went to the Idaho silver fields of Coeur d'Alene where they bought mining claims and opened a saloon. Virgil set up a detective agency in Colton, California, where his parents were then living. Wyatt and Josephine went from Idaho to Texas, then on to California, where they settled for some years in San Diego. There they bought real estate and Wyatt became well known as a referee in boxing matches in San Diego, Tijuana, and San Bernardino. He also owned harness racing horses and drove them himself in races.
By this time his gunfighting days were in the past, but in an interview with an agent of California historian H. H. Bancroft in 1888 Wyatt claimed to have killed "over a dozen stage robbers, murderers, and cattle thieves" in his time as a lawman (quoted in The Earp Papers, p. 141). Wyatt and Josephine were back in Arizona in 1889 where he became a part owner of a gold mine in the Harquahala Mountains northeast of Yuma. By the mid-1890s Wyatt and Josephine were living in San Francisco, where they owned a small stable of race horses.
In December 1896 Wyatt was induced to referee a San Francisco boxing match between Bob Fitzsimmons and Jack Sharkey. Wyatt declared a foul against Fitzsimmons and gave the bout to underdog Sharkey, provoking an unjustified outcry that the fight had been fixed. In the scandal that followed the Earps sold out their holdings and returned to Arizona.
They next moved to Alaska to join the Klondike gold rush in 1897. After numerous adventures they settled in Rampart, Alaska, 100 miles northwest of Fairbanks, toward the end of 1898, living in a dirt-floored log cabin. By the next year they were in Nome, where Wyatt and a partner built the Dexter Saloon, the first two-story building in town. They furnished it lavishly for the period. The business boomed. When the Earps sold out and returned to the U.S. in the fall of 1901 they had $85,000 from the sale of their holdings.
Los Angeles and Mojave Desert Mining Camps
They returned to California. Josephine described the next part of their lives, from 1901 to Wyatt's death in 1929, as "our happiest years together" ("I Married Wyatt Earp," p. 206). She said of those days, "We would wander over the deserts of Nevada, Arizona and California with a camping outfit during the pleasant fall, winter and spring months. The hot summer months would be spent in Los Angeles" (p. 207).
Although automobiles did exist, their first expedition, from Los Angeles to Tonopah, Nevada, early in 1902, was made with a horse team and wagon. It took several weeks to get there. Shortly after they arrived they opened the Northern Saloon, "Wyatt Earp, Prop." They divided the next few years between gold mining in Nevada and living in Los Angeles.
In 1906 Wyatt and Josephine opened mining claims in the Whipple Mountains in the California Mojave desert near the Colorado River. They owned a small cottage at Vidal, halfway between Needles and Blythe, near the Arizona border. They spent their winters there and worked their claims until 1928, the year before Wyatt's death. They generally spent the hot summer months in Los Angeles, where they rented various small houses, the last of which was the house at 4004 W. 17th Street in West Adams.
In the early 1920s Wyatt tried to get the silent film industry to take up his story. He became friends with early Western stars William S. Hart and Tom Mix, and in several letters suggested that Hart use Wyatt's biography as the basis of a film (see excerpts from their correspondence in "The Earp Papers," pp. 217-23).
Wyatt Earp died at the house on 17th Street on January 13, 1929. William S. Hart served as a pallbearer and Western actor Tom Mix attended, as did many of the old timers from Tombstone, the Klondike, and the Nevada and Whipple Mountain mining camps. A lengthy obituary in the Los Angeles Times said in part, "it was like a reunion of the sturdy men and women who knew Wyatt as a wiry, six-foot, two-gun officer of the law in mining town, cow camp and almost anywhere along the frontier where trouble was apt to pop loose." (Cited in "The Earp Papers," p. 232.)
Josephine arranged to have Wyatt buried in the Hills of Eternity Jewish cemetery in Colma, California, in the San Francisco Bay Area. At the time of her death in 1944 she was living at 1812 W. 48th Street in South Los Angeles.
An enormous literature has grown up around Wyatt Earp and his brothers. Some is highly fictionalized. Most of it is either adulatory or part of a subgenre of hostile debunking. Some of this material includes:
W. A. (Bat) Masterson, "Famous Gunfighters of the Western Frontier" (1907).

Stuart Lake, "Wyatt Earp: Frontier Marshal" (1931). The first major biography and a keystone in the heroic Earp legend. Lake interviewed Wyatt Earp extensively, but later admitted that he had no direct quotes in his book but had embroidered on somewhat terse things Wyatt had told him.

Ed Bartholomew, "Wyatt Earp, The Untold Story" (1963). A debunking biography.

Josephine Sarah Marcus Earp, "I Married Wyatt Earp." Collected and edited by Glenn G. Boyer (1976). Based largely on two manuscripts that Josephine wrote after Wyatt Earp's death, though Boyer has been criticized for some fictionalization..

Richard E. Erwin, "The Truth About Wyatt Earp" (1993). Regarded as a solid factual work by an attorney.

Don Chaput, "The Earp Papers" (1994). Excerpts from documents and newspaper accounts of all of the Earps' lives.
Wyatt Earp has been a central character in at least 10 films and a secondary one in dozens more. He has been portrayed on screen by Randolph Scott, Guy Madison, Henry Fonda, Joel McCrea, Burt Lancaster, James Garner, Jimmy Stewart, Hugh O'Brian, Kevin Costner, and Kurt Russell, to name only the best known. Josephine's book was filmed for television in 1983 ("I Married Wyatt Earp" starring Marie Osmond, with Bruce Boxleitner as Wyatt).
--compiled by Leslie Evans