Katharine Putnam Hooker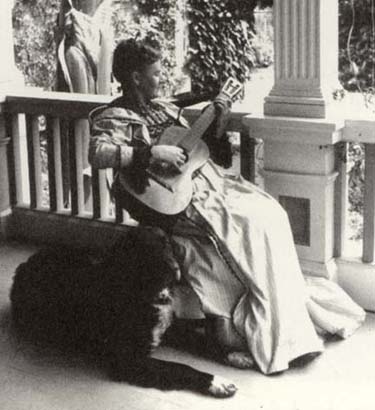 Photo: Katharine Hooker on the porch of her home at 325 W. Adams with her dog Lado. Photograph by Marian Osgood Hooker. Appeared in the Southern California Quarerly, vol. 85, no. 1.
Early leader of West Adams society. Survivor of two shipwrecks and the San Francisco earthquake; noted travel writer about Italy. Close friend of astronomer George Ellery Hale, naturalist John Muir, and psychologist William James.


1849-1935. Katharine Putnam was born in Milwaukee, Wisconsin. Her mother, was Elizabeth Noble Whitney. Elizabeth's brothers, Katharine's uncles, were Josiah Dwight Whitney and William Dwight Whitney. Josiah (1819-1896) was a Harvard professor of geology who became chief of the California Geological Survey (1860-1874) and for whom Mt. Whitney, the highest peak in the United States, is named. William (1827-1894) was a professor at Yale and the leading Sanskrit scholar of his day.
Katharine's father, Samuel Osgood Putnam (1820-1906), in 1849, almost immediately after Katharine was born, left for California to hunt for gold. He sent her and her mother to Elizabeth's parents' home in Northampton, Massachusetts. Putnam crossed the plains in a covered wagon, then rode a horse through the Rocky Mountain passes. In Nevada, Indians stole his horse and he went on to California on foot.
Three and a half years later Samuel Putnam sent for his wife and daughter. Elizabeth and the toddler Katharine took ship for Panama, where they trekked through the jungles on mule back to the Pacific. From Panama they sailed on the SS Tennessee for San Francisco, arriving in March 1853. On the approach to San Francisco Bay the ship struck the rocks in a fog and went to the bottom, at a spot still called Tennessee Cove in memory of the event. The passengers, including four-year-old Katharine, took to lifeboats and were rescued by the crew of a nearby whaling ship.
After the family was reunited they lived in San Francisco for a short time, then bought a farm forty miles to the south where Katharine grew up. Elizabeth, Katharine's mother, died in 1862 when Katharine was fourteen. Later that same year Katharine suffered her second shipwreck. Invited on a bay cruise on the steamer Paul Pry, the ship ran aground on Alcatraz Island and burst into flames. Curiously she found herself in a lifeboat with the same Mrs. Chenery who had shared a cabin with her and her mother on the SS Tennessee nine years earlier and abandoned ship with her once before.
Always athletic and adventurous, as a teenager Katharine climbed Half Dome in Yosemite National Park by rope. She once walked to the bottom of the Grand Canyon and back, disdaining to take the easy way down on mule back.
In 1869 at age twenty Katharine Putnam married John Daggett Hooker (see entry). They moved to Los Angeles, although we have been unable to determine the dates. John Hooker became wealthy in the hardware and ironworks business, and was president of a local oil company. Around 1886 they built a house at 325 West Adams Street [in the nineteenth century it was West Adams Street; sometime later it was renamed Adams Boulevard] at the northwest corner of Grand Avenue and Adams, later the site of the Orthopedic Hospital. The house was an enormous colonial revival mansion with decorative porch columns.
John and Katharine had a son, Lawrence (1878-1894), who died of anthrax while attending Yale Law School in New Haven, Connecticut. Their daughter, Marian Osgood Hooker (1875-1968), became a physician and published numerous medical and scientific books. She was also a prominent amateur photographer whose photographs illustrated Katharine's travel books. Marian was the first woman to scale Mt. Whitney, in 1903 in a group with the famed naturalist John Muir, who was a close family friend.
Katharine had a lifelong interest in books. She learned French and German in her youth, read voraciously, and maintained a large library. She became a skilled bookbinder as a hobby. She was a talented writer and regularly published short stories. Once as a gift Katharine financed the republication of a novel by her friend and early feminist author Elizabeth Stoddard (1823-1902).
Marian lived with her mother through most of Katharine's life and was her best traveling companion. The two made an extended trip to Europe in 1896 with a family friend, Samuel Marshall Ilsley. Always incensed by needless cruelty, Katharine attended a bullfight in Madrid and was so horrified at the torture of the bull that she made the party leave the city the same day.
The trio then went on to Italy, which captivated Katharine and became a central interest for the rest of her life. She began the serious study of Italian, and by 1899 on a return visit had become fluent. She wrote three influential books about her adopted country, "Wayfarers in Italy," which was first printed privately then brought out in an edition by Scribners (1902); "Byways in Southern Tuscany" (1918); and "Through the Heel of Italy" (1927). "Wayfarers" went through four printings by 1905 and is still occasionally quoted today. All three books were illustrated with photographs by Katharine's daughter Marian Osgood Hooker.
Katharine and John hired an architect to build formal gardens as part of their home, and John maintained a stable and horses before automobiles were common. Samuel Marshall Ilsley in a brief memoir of Katharine wrote of their home, "It became one of the beauty spots in Los Angeles, and many notable gatherings were held there, brilliant teas, philanthropic meetings, and later for a number of years . . . lovely children's festivals" ("Katharine Hooker: A Memoir," 1935, p. 30). The house was later donated to a family friend, Maude Thomas, who turned it into her St. Catherine's School.
Katharine was the center of the social life of the home on Adams Street. She was a close friend for decades of philosopher and psychologist William James, who enjoyed lengthy stays at the Hooker home, and the conservationist John Muir, despite the fact that Muir carried on a famous and prolonged dispute with Katharine's uncle Josiah Dwight Whitney over the geological origins of Yosemite Valley. Muir lived at the West Adams home for months at a time and wrote some of his enduring works there. Another friend was scholar and peace activist David Starr Jordan. Beginning in 1904 Katharine added the eminent astronomer George Ellery Hale to her circle and he became a frequent guest at the Adams Street house, as well as a source of friction between Katharine and her husband John.
In February 1904 George Ellery Hale, who was cultivating John Hooker as a donor for the newly created Mt. Wilson Solar Observatory, first visited the West Adams house. Hale quickly formed a close attachment to Katharine and her younger friend Alicia "Ellie" Mosgrove. Helen Wright in her biography of Hale recounts, "Soon after his first visit to the house on West Adams Street in Los Angeles, Hale had met the beautiful, highly cultured Katharine Hooker. From the first he was charmed. . . . Behind the yellow house on West Adams Street she had a charming Italian garden, and here, as time passed, George Hale was to spend some of his happiest hours." ("Explorer of the Universe: A Biography of George Ellery Hale," pp. 197-98)
Katharine would recite long poems in Italian, and Hale, whose Italian was very limited, would memorize them and repeat them in turn. Although Katharine was almost twenty years older than Hale, she and Ellie Mosgrove brought out a hitherto unseen playful side of the country's most famous scientist. Helen Wright comments:
"Soon after their first meeting [Hale] invented a saloon on the Embarcadero in San Francisco in which the fascinating Ellie became the 'gal' with diamond heels and a red dress who sold drinks at the bar. To strangers he would often say quite seriously, 'By the way, did you know that Ellie once kept a saloon in the Seraglio in Constantinople, and there shanghaied sailors into the bar?'"
When in a more serious mood, Wright continued, "the house took on an added glamour. In those stimulating surroundings he became, as a younger woman who met him there recalls, 'the charming center of a great deal of admiration.' When he talked of his work on the sun, of his great telescopes and the universe they revealed, his listeners sat entranced." (p. 199)
Alicia Mosgrove, like Katharine, was highly accomplished. She had climbed Mt. Whitney, sailed on a yacht to Tahiti, and traveled a thousand miles down the Nile in a native boat. She founded a school in the Westlake district of Los Angeles sometime around 1906. In her later years she founded a children's museum and hospital in San Francisco and served as director of the California Institution for Women in Tehachapi.
Katharine adopted Ellie Mosgrove into the family and Mosgrove lived with the Hookers, continuing on living with Katharine and her daughter Marian after John's death in 1911 when Katharine left Los Angeles and moved to northern California.
Katharine was visiting her father, Samuel Osgood Putnam, in San Francisco in April 1906 when on the 18th the famous earthquake took place. The house survived the shaking, but the fire that swept the city reached it during the night, burning it to the ground. The family evacuated at 3:00 am, enlisting aid to carry Samuel, who was 85 and an invalid. They took him to a tent hospital at Fort Mason, then to a Red Cross hospital. The rest of the family lived in an evacuee camp run by the military for five days. John Hooker, who had remained behind in Los Angeles, sent an agent with a belt full of gold pieces who finally found them. Samuel was taken to his ranch, where he died a few months later.
Back in Los Angeles, Katharine resumed her friendship with George Hale. California historian Kevin Starr in his book "The Dream Endures: California Enters the 1940s," suggests that John Hooker's 1906 donation of $45,000 to George Hale to construct the 100 inch telescope at Mt. Wilson later named the Hooker Telescope was inspired by resentment at John's exclusion from the literary discussions taking place in the garden between Hale, Katharine, and Ellie Mosgrove, where John was "just barely" tolerated. The donation led to close business relations between John Hooker and George Hale over the next five years. The two men became estranged during this period after the four-and-a-half ton glass casting for the telescope's mirror arrived from France in December 1908 with apparent fatal defects. Hooker demanded that it be rejected, while Hale turned his attention instead to a smaller telescope and delayed making a decision.
As he turned seventy-one in 1909, Hooker developed an intense jealousy of his wife's friendships with other men. When visitors came to the house, if John answered the door he would take them to his study without informing Katharine; if Katharine got there first, she took them to the garden without John. Finally John ordered that no man, especially George Hale, would be permitted in the house if he were not present. This, and the argument with Hooker over the telescope, drove Hale to a nervous breakdown in 1910, during which he spent a long period in Europe.
Another figure important to the Hooker household was John Muir (1838-1914), America's most influential naturalist and conservationist, founder of the Sierra Club, and often called the "Father of our national parks." In the foreword to the collection of Muir's letters from his later years, "John Muir's Last Journey," Robert Michael Pyle writes of the period around 1910, "Muir returned four times to Los Angeles to lodge and write at the home of his wealthy friend John D. Hooker, the amateur astronomer and retired ironmaster. Muir's friendship with the Hooker family was vitally important to him during these years. Most of his best writing from this period was accomplished not in the 'scribble den' of the old Martinez ranch house, but in the garret of the Hooker's home on West Adams Street in Los Angeles."
Samuel Ilsley in his brief biography of Katharine Hooker recalled of Muir, "He had made long stays with the family in Los Angeles, while writing some of his books. His personality was as picturesque and distinguished as his books, a wonderful talker and story-teller about the many adventures of his life."
John Hooker died in May 1911. At that time John Muir was preparing for his last major journey, up the Amazon River in South America and then on to Africa to explore the Nile and Lake Victoria. John Muir was close to both John and Katharine. He lived in their house for long periods, and when away corresponded with Katharine for more than twenty years. This correspondence intensified from the lonely way stations of his final long journey, which lasted from August 1911 to March 1912. By the time Muir had sailed from Philadelphia in August, Katharine had abandoned Los Angeles and moved to San Francisco.
John Muir wrote many letters to Katharine in San Francisco from the stopping points on his journey. In a latter of September 19, 1911, from Para, Brazil, a thousand miles up the Amazon, he wrote:
"Away up in that wild Manaos region, in the very heart of the vast Amazon basin I found a little case of books in a lonely house. Glancing over the titles none attracted me except a soiled volume at the end of one of the shelves, the blurred title of which I was unable to read, so I opened the glass door, opened the book, and out of it like magic jumped Katharine and Marian Hooker, apparently in the very flesh The book needless to say was Wayfarers in Italy. This joy-shock I must not try to tell in detail for medical Marian might call the whole story an equatorial fever dream." ("John Muir's Last Journey," pp. 67-68)
Katharine built a house on Pacific Avenue in San Francisco that she shared with Alicia Mosgrove. Later they moved to Berkeley, where they were joined by Katharine's daughter Marian. Katharine and Alicia are recorded as among those who attended John Muir's funeral in San Francisco in December 1914.
In 1915, Katharine, now 66, made a car trip to Death Valley. This was "before the days of good roads and comfortable inns," Samuel Ilsley wrote, "when it was a real adventure fraught with some danger."
At George Hale's invitation, Katharine and Alicia went to New York in May 1917, a month after the United States entered World War I, to hear the great physicist Ernest Rutherford, who was part of a French-British delegation appealing for American aid in the war. In his 1918-19 report the president of the University of California acknowledged donations of specimens by Katharine for the natural history museum in San Francisco.
Katharine returned to Italy on a trip with Marian in 1922. In 1924 she, Marian, and Alicia Mosgrove moved to Santa Barbara, where they were joined by their old friend Maude Thomas. George Hale and his wife Evelina would take their summers in Santa Barbara, where George would spend much time with Katharine, Marian, and Maude Thomas.
At the age of 85 Katharine took a trip to Vancouver by car. She died in July 1935 at eighty-six.
--compiled by Leslie Evans