Joe Louis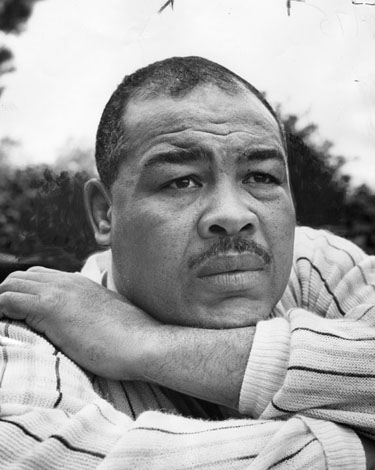 World Boxing Champion, 1937-1949.


1914-1981. World boxing champion 1937-1949, nicknamed "The Brown Bomber." Joe Louis was born Joseph Louis Barrow on May 13, 1914, in Lexington , Alabama , the youngest of seven children. His father was committed to a mental institution when Joe was two and died when he was four. His mother, Lilly Barrow, remarried and the family moved to Detroit . Louis was studying cabinet-making at a trade school when he took up amateur boxing, registering as "Joe Louis," in some accounts so his mother wouldn't find out. He won 50 of 54 amateur bouts. He had taken a job on an auto assembly line, but decided to become a professional boxer when he won the U.S. Amateur Athletic Union crown in 1934.
Louis won his first 68 professional fights, beating such boxing greats as Primo Carnera and Max Baer. His first defeat was on June 19, 1936, in a match with world heavyweight champion Max Schmelling of Germany . Schmelling knocked Louis out in the twelfth round, having studied films of Louis's previous bouts and detected a habit Louis had of holding his left low. Schmelling came in over Louis's left for a stunning blow in the fourth round, leaving Louis reeling for the remainder of a 12 round fight.
Joe Louis won the world championship the next year in a bout with James J. Braddock. His most famous fight was a rematch with Schmelling on June 22, 1938, in front of a crowd of 70,000 at Yankee Stadium in New York . Louis was invited to the White House beforehand to meet President Roosevelt, while Schmelling received a phone call in his dressing room from Adolf Hitler to say he was counting on Schmelling to prove the superiority of the Aryan race, although Schmelling himself had never been a Nazi. The bout lasted 124 seconds. It ended with Schmelling on the floor. It took him a week in the hospital to recover.
Joe Louis enlisted in the Army in 1942, where he served with African American baseball star Jackie Robinson in a segregated unit. The Army assigned Louis to perform exhibition bouts for servicemen, and by the end of the war Joe Louis had done 96 of these for a total audience of two million GIs. He ended the war as a sergeant.
Louis returned to the ring after the war, in 1946, but his wins were more closely fought and he retired in 1948. He had always been a bad money manager, giving money to his friends, to good causes, or starting businesses that didn't get off the ground, such as the Joe Louis Insurance Company. In his heyday he earned $5 million, but it was mostly gone by the end of the 1940s, when the IRS hit him with a demand for $1.2 million in back taxes and penalties. He came out of retirement to try to earn the money, but lost two matches and retired for good after he was knocked out by Rocky Marciano in October 1951. His lifetime record was 68 wins and three losses, winning 54 fights by knockouts.
Louis was married three times. His last marriage, in 1959, was to Martha Jefferson, a successful Los Angeles attorney who was the first black woman to practice law in California . He lived in Detroit in his early years, spent some time in Chicago , and lived mostly in Las Vegas beginning in the 1950s, where he was a greeter and did public relations for Caesar's Palace. He maintained a home in Los Angeles in West Adams in the section called Lafayette Square .
Louis developed a number of health problems including Pugilistic Parkinson's syndrome and serious heart damage. Following a heart operation he spent his last three years in a wheelchair. After the defeat of Nazi Germany in World War II Max Schmelling became friends with Joe Louis. He often sent the former champ money and served as a pallbearer at his funeral.