Hattie McDaniel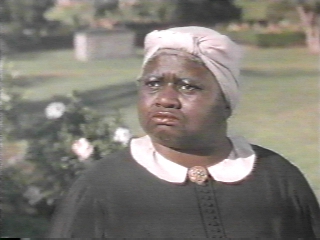 First African American to win an Oscar.


1895-1952. First African American film star to win an Oscar. Hattie McDaniel was born in Wichita , Kansas to Henry and Susan McDaniel. Her father was a freed slave who have become a Baptist minister; her mother was a gospel singer. McDaniel's father organized her and her brothers and sisters into a singing troupe to earn money.
At the age of 15 she won a medal in dramatic art, and that year dropped out of school to join a minstrel show. In 1915 she became a singer with Professor George Morrison's Orchestra, touring the country. She is believe to have been the first African American to sing on network radio in the United States . McDaniel toured with minstrel shows and vaudeville for almost twenty years until vaudeville collapsed at the end of the 1920s. She later recalled:
"I had headlined on the Pantages and Orpheum circuits, but vaudeville was dead as last month's hit song. Milwaukee was really my springboard to Hollywood . I landed there broke. Somebody told me of a place as a maid in the ladies' room at Sam Pick's Suburban Inn. I rushed there and took the job. One night, after midnight, when all the entertainers has left, the manager called for volunteer talent from among the help. I asked the boys in the orchestra to strike up 'St. Louis Blues.' I started to sing 'I hate to see the evening sun go down'... I never had to go back to my maid's job. For two years I starred in the floor show."
In 1931 McDaniel moved to Los Angeles , where her brother got her a part on a radio show called "The Optimistic Do-Nuts." She was soon the star. She started in films as an extra. When work was not available, she worked as a domestic, a cook, or a washerwoman. Hattie McDaniel got her first speaking part - as a maid - in 1932 in "The Golden West." From the first she was typecast as a black maid by the racist attitudes of Hollywood in that period. But she made the most of it. One online biography of her comments, "Her maid-mammy characters became steadily more assertive, showing up first in 'Judge Priest' (1934) and becoming pronounced in 'Alice Adams' (1935). In this one, directed by George Stevens and aided and abetted by star Katherine Hepburn, she makes it clear she has little use for her employers' pretentious status seeking. By 'The Mad Miss Manton' (1938) she actually tells off her socialite employer Barbara Stanwyck and her snooty friends. This path extends into the greatest role of her career, Mammy in 'Gone With The Wind' (1939). Here she is, in a number of ways, superior to most of the white folk surrounding her." Hattie McDaniel was often quoted as saying she would rather play a maid than be one.
In "Judge Priest" McDaniel sang a duet with Will Rogers. She appeared in Shirley Temple's "The Little Colonel" (1935). In " Saratoga " (1937) she sings with Clark Gable. Her greatest role before "Gone With the Wind" was as Queenie in the Oscar Hammerstein-Jerome Kern musical film version of Edna Ferber's "Showboat" (1936) with Irene Dunne, Alan Jones, Helen Morgan, and Paul Robeson. She also toured with the live theatre version of "Showboat." McDaniel was also on numerous radio shows throughout the 1930s and 1940s, including the Eddie Cantor Show and "Amos 'n Andy."
The high point of her career was the role of Mammy in "Gone With the Wind" (1939), starring Clark Gable and Vivien Leigh, for which she won the Oscar as Best Supporting Actress, the first African American to win an Academy Award. Hattie McDaniel had read the book and wanted the role. She had enough standing in Hollywood by then to confront producer David O. Selznick and get him to delete the word "nigger" from the script.
Still, the film, and especially Hattie McDaniel's part as a loyal slave in the old South, was controversial. On the white racist side, when the film premiered in Atlanta in December 1939, many of the stars were present for its unveiling but none of the African American performers had been invited, as Atlanta was still segregated. Prominent whites in Atlanta protested when the movie program included a photo of Hattie McDaniel on the back, and the program was destroyed and new ones printed with a white actress's picture. Hattie McDaniel did not attend the premiere, even going so far as to write a letter to producer David O. Selznick, saying she would be "unavailable" at the time of the premiere, in order to let him off the hook for not fighting for her presence at the event. Clark Gable at first threatened to boycott the showing if McDaniel did not attend, but she persuaded him to go.
On the other side, there were picket lines in the North at previews in Chicago and New York denouncing "Gone With the Wind" for its laudatory portrayal of the slave-holding South, as well as at the Academy Award ceremonies in Los Angeles . The main objection was Hattie McDaniel's part as Mammy the loyal maid. It was certainly true that white films had almost without exception only allowed black actors to appear as savages, slaves, Pullman porters, and servants. Only in recent years have liberal and African American audiences come to look better on Hattie McDaniel's talent and her choice of one way to make the best of a situation with limited possibilities.
In February 1940 at the Academy Award ceremonies at the Ambassador Hotel's Coconut Grove the loudest ovation of the evening went to Hattie McDaniel as she won the Oscar, and became the first African American performer to win one.
In later years McDaniel's film roles were less challenging. She played Emily Hawkin in Selznick's "Since You Went Away" (1944), with Shirley Temple, Claudette Colbert, and Jennifer Jones, and Aunt Tempy in Disney's "Song of the South" (1946). She had her own radio show "Beulah" (1947-51), and did the same part on TV, where she starred in three episodes from TV's first sitcom to feature an African American in the title role before becoming ill and was replaced.
Hattie McDaniel lived in West Adams, first at 2173 W. 31st Street in Jefferson Park. She was a leader in organizing against racial segregation in her neighborhood. Her purchase of her long-time home at 2203 S. Harvard Blvd. was one of the triggers of the May 3, 1948, U.S. Supreme Court ruling in Shelley v. Kraemer that racially restrictive real estate covenants were unenforceable. Some reports say she lived later briefly on Country Club Drive but we have not verified that. She was married four times, but none lasted very long. She died of breast cancer on October 2, 1952. She had appeared in 70 films.
Hattie McDaniel asked to be buried in Hollywood Memorial Park (now Hollywood Forever) but the cemetery refused on racial grounds. She was buried in Rosedale Cemetery in West Adams . Hattie McDaniel has two stars on the Hollywood Walk of Fame: one for her contributions to radio at 6933 Hollywood Boulevard , and one for motion pictures at 1719 Vine Street . She was the subject of a television documentary, "Beyond Tara: The Extraordinary Life of Hattie McDaniel" (2001), narrated by Whoopi Goldberg.
--compiled by Leslie Evans