Ramon Novarro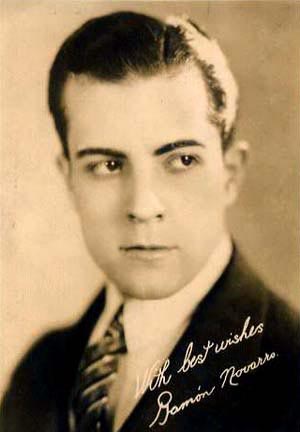 Heart-throb of the silent screen.


1899-1968. Actor, best known for his silent films. Born in Durango, Mexico, and christened Ramon Gil Samaniego. His father was a prosperous dentist. Ramon sang in the church choir and studied classical piano. In 1914, his family moved to Los Angeles to escape the aftermath of the 1910 Mexican Revolution.
In California , Ramon taught music and singing and worked as a stage manager. He lived in San Francisco for a time and worked as an actor in a stock company. He broke into silent films as an extra in 1917. His first major role was as Rupert of Hentzau in "The Prisoner of Zenda" (1922). After completing "Zenda," director Rex Ingram persuaded Ramon to change his name to something simpler. According to the story, Ramon chose the common Spanish name Navarro but a secretary misspelled it with an "o" and it stuck.
Ramon Novarro quickly rose to stardom on the silent screen, making 18 films in the next eight years, including "Scaramouche" (1923) and "The Student Prince in Old Heidelberg" (1927). His most famous role was as the hero in "Ben-Hur: A Tale of the Christ" (1925), the most expensive silent film ever made, remembered for its dramatic chariot race. At MGM, Novarro's salary reached $10,000 a week – a fabulous sum in the 1920s.
In 1925 Novarro purchased a house at 2265 West 22nd Street in West Adams for $12,000. He spent $100,000 on the renovation, adding a private wing with a suite of dressing rooms, servants' quarters, and his own theatre.
Ramon Novarro was often compared to Rudolph Valentino, and while not as popular, Novarro was generally considered to be the better actor. The equally famous but more durable Dolores del Rio was his cousin.
Initially Novarro made a successful transition to sound films but his career quickly waned as acting styles changed. He played opposite Greta Garbo in "Mata Hari" (1932) and Jeanette MacDonald in "The Cat And The Fiddle" (1934), but after the mid-1930s he had few roles and most of them small. He starred briefly in the television series "The Nine Lives of Elfego Baca" (1958). His last film was "Heller in Pink Tights" (1960), although he occasionally guest starred in television shows. As his film career became sporadic, Novarro engaged in business, including real estate investments.
Although he was discreet about his private life, it was generally known that Novarro was gay. In the fall of 1968 he had been seeing 22-year-old Paul Ferguson, a street hustler. On October 30, he took Paul and his younger brother Tom to his home, then in Laurel Canyon . The two tortured Novarro to death to get him to reveal where large amounts of money were allegedly hidden in the house. The money did not exist and Novarro was found dead by his servant the next morning. The two Fergusons each blamed the other. Both were sentenced to life in prison, but were later paroled. Paul Ferguson is now serving a 30-year term for a brutal rape he committed in Missouri in 1989.
There are three biographies: "Beyond Paradise : The Life of Ramon Novarro," by Andre Soares; "Ramon Novarro: A Biography of the Silent Film Idol, 1899-1968," by Allan R. Ellenberger, and "Ramon Novarro: The Life and Films of the First Latino Hollywood Superstar," by Frank Javier Garcia Berumen.