Little Richard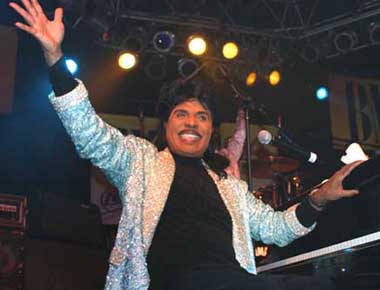 Flamboyant central figure in the history of rock and roll.


1932- . Born in Macon, Georgia, as Richard Wayne Penniman. He was one of twelve children. His father, Charles "Bud" Penniman, was a Seventh Day Adventist preacher who sold moonshine on the side. The family lived on an unpaved street in a poor section of town. As a child Richard sang with the Penniman Singers and the Tiny Tots Quartet. By age fifteen he was a regular with Sugarfoot Sam's Minstrel Show.
In 1951 at 18 he won a talent contest in Atlanta that led to a recording contract with RCA Victor. He made four records but they did not sell. In the winter of 1952 his father was murdered and he returned to Macon , where he worked as a dishwasher in the cafeteria of the Greyhound bus station and sang blues at night at the Tick Tock Club. In Houston , he recorded several singles for Peacock Records, but without much success.
Back in Macon in early 1955 Richard was again working as a dishwasher when he cut a demo tape. From this he was invited to a recording session in New Orleans . Initially unimpressed with Richard's slow blues, Specialty Records producer Robert "Bumps" Blackwell during a break accompanied Richard to a local bar where Richard at an old piano broke into what became his trademark wild and lewd style. They returned to the studio and after a local lyricist cleaned up the original bawdy lyric recorded "Tutti Fruiti, aw-rootie," which became an instant hit and for which he is best remembered, with its opening line, "A-wop-bom-aloo-mop-a-lop-bam-boom," and Little Richard's exuberant shouts.
Little Richard recorded fifty songs with Specialty between September 1955 and October 1957. From these Specialty released 9 singles and two albums. There included a string of hits, including "Slippin' and Slidin'," "Long Tall Sally," and "Good Golly Miss Molly." These topped the charts in 1956 and the first half of 1957 and became rock and roll standards. His onstage persona was campy, over the top, androgynous, and very loud. The "New York Times Book Review" later described him as "the wild man of rock and roll." The Rock and Roll Hall of Fame website writes, "Onstage, he'd deliver wild, piano-pounding epistles while costumed in sequined vests, mascara, lipstick, and a pompadour that shook with every thundering beat. His road band, the Upsetters, has been credited by James Brown and others with first putting the funk in the rock and roll beat." He is often ranked with Elvis Presley as one of the two principal inventors of rock and roll.
Little Richard appeared in a number of films, including "The Girl Can't Help It" for which he recorded the title track. Then in a surprise twist, in October 1957 during a tour of Australia a near plane crash led Little Richard to renounce rock and roll and enroll in seminary. He was ordained as a Seventh-day Adventist minister at Oakwood Theological College in Huntsville , Alabama , in 1958.
Specialty had a number of his unreleased tracks, leading to a dispute over royalties in which Little Richard sued them. Seeking to combine his new vocation with his music, Little Richard made a gospel tour in 1959 and signed a recording contract with Gone Records had enough material to keep releasing singles and albums for another year. Sensing he was being cheated Richard hired a lawyer to collect back royalties from Specialty Records that he estimated at $25,000.
In January 1959 he signed with an Los Angeles agency to set up a gospel tour and in June signed a recording contract with Gone Records. Several years of this work was not well received. Then, in 1962, Little Richard returned to rock and roll with some of its biggest-name performers. He toured Europe with the Rolling Stones, and Jimi Hendrix was briefly his guitarist. He regained much of his old popularity in rock and roll revivals of the late 1960s, selling over 32 million records internationally by 1968.
Little Richard's career went into decline in the 1970s. In 1976 he returned to the ministry and became a full-time evangelist. He then made another comeback in the 1980s, with the song "Great Gosh A Mighty" and appearances on television children's shows, including Jim Henson's "The Muppets." In this period he recorded a rock and roll version of the children's tune "Itsy Bitsy Spider" for a Disney Records' album. The record went gold and earned millions for the Pediatric AIDS Foundation. Little Richard followed up with a number of rock and roll versions of children's songs.
In October 1985 he was seriously injured in an accident in West Hollywood . In 1986 he appeared in the successful movie "Down and Out in Beverly Hills ," which included his first hit in sixteen years, "Great Gosh a 'Mighty." With Phillip Bailey he performed the title song to the 1988 Arnold Schwarzenegger-Danny DeVito film "Twins." Little Richard was inducted into The Rock and Roll Hall of Fame in 1986. In 1993 Little Richard performed at Bill Clinton's presidential inaugural. That same year he received the Lifetime Achievement Award from the National Academy of Recording Arts and Sciences. It is widely reported that Little Richard lived in West Adams but we have been unable to locate the address. He was the subject of a biography, "The Life and Times of Little Richard: The Authorized Biography," by Charles White, and a television film, "The Little Richard Story" (2000).
--compiled by Leslie Evans