Sugar Ray Robinson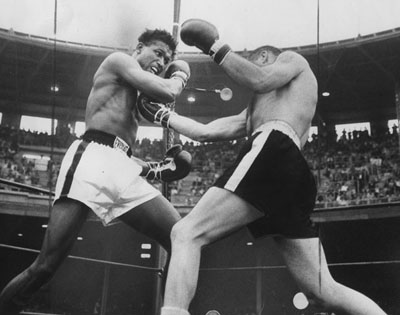 Greatest welterweight and middleweight boxer of the 20th century.
1921-1989. World welterweight boxing champion who held the middleweight title five times. Named by the Associated Press in 1999 the greatest welterweight and middleweight boxer of the century.
Born in Detroit , Michigan , as Walker Smith, Jr., to Walker and Leila Smith. His father was a laborer and his mother a seamstress. His parents divorced when he was five, and his mother moved the family, which included his two older sisters, to New York City . There Walker took tap dancing lessons and did odd jobs to help support the family. As a teenager, Walker joined an athletic club in Harlem where he met George Gainford, who would later be his manager. To qualify Walker to fight in an amateur bout Gainford gave him the ID card of a youth who had quit boxing named Ray Robinson. Walker began his amateur fight career under that name and it stuck.
As Ray Robinson, Walker went on to an undefeated amateur record of 85 fights in which he scored 69 knockouts. His wins included the National Golden Gloves championship in the featherweight division. During a fight in Waterton , New York , a local sportswriter commented that Robinson was a sweet fighter; a fan added "sweet as sugar," and he became Sugar Ray Robinson.
Robinson turned professional in 1940. He won the welterweight championship in 1946 by defeating Tommy Bell and the middleweight championship for the first time in 1951 by knocking out Jake La Motta. During his career Sugar Ray Robinson beat seven other Hall of Fame boxers: Henry Armstrong (see entry), Kid Gavilan, Carmen Basilio, Jake La Motta, Rocky Graziano, Gene Fullmer, and Fritzie Zivic. When Robinson retired from boxing as middleweight champion in 1952 he had lost only three times in 137 bouts.
Temporarily out of the fight business, Robinson returned to the tap dancing of his youth. He worked in Las Vegas and toured Europe , earning as much as $15,000 a week for his appearances. He had made a lot of money in boxing and invested it in various small businesses, including a café, a cleaners, a lingerie shop for his second wife Edna Mae, and a barber shop for his manager George Gainford. While in Paris Robinson learned that most of his properties were in foreclosure and the IRS was dunning him for back taxes. To solve his financial problems, Sugar Ray Robinson returned to boxing in 1955, recapturing the middleweight title for the third time from Carl "Bobo" Olson, making him the first boxer ever to regain a title after retiring.
Robinson went on to lose the World Middleweight Title to Gene Fullmer in January 1957, regaining it in a rematch the following May. He lost the title again to Carmen Basilio in September of that year, only to win it back again from Basilio in Chicago in March of 1958. Robinson fought only one fight in 1959, which he won, and then lost the middleweight championship for the last time, to Paul Pender in a bout in Boston in January 1960. Over the next six years, now well into his forties, Sugar Ray Robinson fought 48 more professional matches, retiring for good when he lost a fight to Joey Archer in Pittsburgh in November 1965.
In the whole of his professional career, Sugar Ray Robinson won 173 fights, with 109 kayos. He was defeated only 19 times, 16 of those after the age of 36. He fought 18 world championship fights. He was 38 when he won his last middleweight title. In 1997 the Ring magazine named Sugar Ray Robinson "pound for pound, the best boxer of all time," a phrase that is often repeated in books and articles about him.
In 1962 Sugar Ray Robinson divorced his second wife Edna Mae, ending a stormy marriage that had lasted 18 years. He married for the third time in 1965 to Millie Bruce, in Las Vegas . They moved to Los Angeles , where they lived modestly in the top story of a duplex at the corner of West Adams Blvd. and 10th Avenue .
Robinson was elected to the Boxing Hall of Fame in 1967, two years after he retired. In 1969 he founded the Sugar Ray Robinson Youth Foundation for inner-city children in the Los Angeles area. Bob Hope and Elizabeth Taylor were honorary chairpersons and Arnold Schwarzenegger was an honorary member. The foundation receives a little more than $500,000 a year from state, county, and charitable organizations.
Sugar Ray Robinson made one of his last public appearances in 1986 as the best man at Jake La Motta's wedding. They had fought six times; Robinson won five. Robinson, suffering from Alzheimer's disease and diabetes, died at age 67 on April 12, 1989, at the Brotman Medical Center in Culver City . His wife Millie continued on as head of the Sugar Ray Robinson Youth Foundation, whose offices are at 1101 S. Crenshaw Blvd. #101 .
--compiled by Leslie Evans