Robert Maclay Widney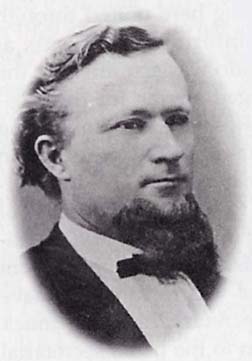 Founder of USC. Pistol-packing judge and real estate developer.
1838-1929. Principal founder of USC. Born in Piqua , Ohio . At 16 he left for the Rocky Mountains and the Great Plains where he adventured for two years with a knapsack, axe, and rifle. Robert M. Widney arrived in California in 1857. He attended the University of the Pacific at Santa Clara , 1858-62, taking his BA and MA., later serving there as a professor of mathematics.
In 1865 he was admitted to the bar, and in 1867 came to Los Angeles , where married Mary Barnes in 1868. They had five children. Widney practiced law and opened the city's first real estate office. He took prospective buyers to land sites in his buckboard and published a monthly "Real Estate Advertiser." In 1871 Robert Widney was appointed a judge. In October of that year there occurred the infamous Chinese Massacre. When a Caucasian was accidentally killed in an exchange of gunfire between two Chinese, a mob of 500 whites and Latinos attacked the tiny Chinatown at the Calles des Negroes, looting every building and beating to death or lynching 19 Chinese, only one of whom had anything to do with the shooting. Judge Widney hurried to the scene, at first unarmed, then he sent for his gun and was instrumental in halting the massacre.
In the early 1870s the Cerro Gordo silver mine in the Mojave became a center of economic growth for the city. When the Southern Pacific Railroad slapped a prohibitive tariff on transport of the silver ingots, Robert Widney explored creating a rival railroad, and in 1873 the Los Angeles Chamber of Commerce was founded in his courtroom to strengthen local interests against the SP. The emergency passed when Remi Nadeau opened his mule team freight line to the Cerro Gordo . The following year, Widney organized the first rail transit line in Los Angeles , a horse car operation named the Spring & West Sixth Railroad (electric streetcars appeared only in 1887). Widney's line was incorporated February 6, 1874, with a capital of $12,000. Its route was from the Plaza on Main to Spring to 1st to Fort (Broadway) to 4th to Hill to 6th to Pearl (Figueroa). The rail line began with only one car. It sold tokens for 10 cents, and coins were so scarce that the tokens were accepted as cash by all the businesses in town.
In May 1879 Judge Widney brought together the founders of USC, forming a board of trustees and securing a 308-lot land donation from three community leaders - Ozro W. Childs, a Protestant horticulturist; former California governor John G. Downey; and Isaias W. Hellman, a German-Jewish banker and philanthropist. Widney personally wrote the trust deed for the university and the articles of incorporation. Widney donated $100,000 to USC, a large sum for the times. USC formally opened in 1880 with 53 students and 10 faculty. Its first building was named Widney Hall.
Later, Widney was one of four men who created the city of Long Beach . Judge Widney owned enormous pieces of local real estate. In May 1901 he sold to Frederick A. Rindge, another West Adams figure, the whole of the San Fernando water system, consisting of thirty-seven miles of iron and steel pipe, which supplied the towns of San Fernando and Pacoima, as well as the orange, lemon and olive orchards of the area. He was a leader of the Methodist Episcopal Church and wrote a book on the bible and science entitled "The Plan of Creation." Robert Maclay Widney is buried at Angelus Rosedale Cemetery . He was portrayed in the 1997 West Adams Heritage Association Living History Tour.