West Adams and the Movies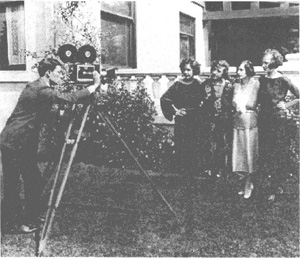 Buster Keaton makes a home movie with the Talmadge girls -
Norma, Constance, his wife Natalie, and their mother Peg.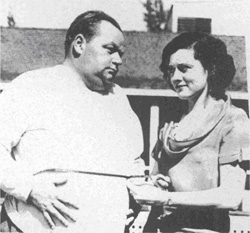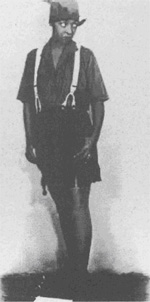 West Adams has had connections to the film industry since its earliest days.
 
By Danny Miller
First published in the December 2005 issue of "West Adams Matters," the WAHA newsletter
West Adams has had connections to the film industry since its earliest days - you could almost say the two grew up together. Just as one stately home after another was rising up on Adams Boulevard and the surrounding streets, the fledgling movie industry was making its first moves into Southern California. Leaving behind the inhospitable climates of Chicago and New York, the purveyors of this brand new medium were descending upon Los Angeles to set up their dream factories. As the Silent Film era reached its heyday, movie stars and film directors alike-including Buster Keaton, Rupert Hughes, W.C. Fields, Fatty Arbuckle, and the Talmadge sisters, Constance, Norma and Natalie-lived in mansions in and near the West Adams District.
While a new development called Hollywood would soon beckon, the nerve center of the moving picture industry in 1910 was the Alexandria Hotel in downtown Los Angeles, close to the borders of West Adams. Movie star hopefuls lined up on the corner of Spring and Fifth for casting sessions in the Alexandria's opulent bar, and so many deals were struck in the lobby of the hotel that the ornate carpet became known as "the million dollar rug." The earliest film actors, used to a life in the theatre where they traveled constantly, stayed at the Alexandria or in nearby hotels. But with public interest in the movies increasing as fast as their salaries, the players began looking for places to establish roots in the new film capital.
The earliest residents of West Adams were not exactly welcoming to the up-and-coming actors. Despite their own questionable beginnings, the oil barons, mining lords, and bankers of West Adams turned up their noses at these theatrical vagabonds. As journalist Adela St. Johns wrote, "Nobody wanted to live near a motion picture actor. They kept different hours, they had a freer lifestyle, and they weren't the most conventional types you would care to run into or have anything to do with. A lot of the homes for sale in those days had signs on the front lawns in big letters: NO DOGS, NO ACTORS!"
By the mid-teens, the movies had such a hold on American culture that even the toniest residents of West Adams had become secret fans. As the February 1917 edition of Photoplay magazine featuring Norma Talmadge on the cover was being ferreted into the West Adams living rooms under copies of the Los Angeles Evening Herald, one of filmdom's first superstars was moving into their midst.
Born Theodosia Goodman, the daughter of a Jewish tailor in Cincinnati, silent screen vamp Theda Bara was a bizarre creation of studio publicists. Bara's official biography detailed her illegitimate birth to a French artist and an Arabian princess. She was supposedly born in the shadows of the Pyramids and her name was an anagram for "Arab Death." When Theda Bara moved into her home at 649 W. Adams, the house soon looked like one of her film sets: she packed the rooms with mummy cases, tiger skin rugs, crystal balls, and peacock feathers. Reporters were reluctant to visit her West Adams home alone for fear she would put them into a trance. The public couldn't get enough of the pale girl with her waist-length hair and haunting eyes. "Is She the Devil's Handmaiden?" screamed the fan magazines. But as World War I drew to a close, the fascination with screen vamps faded and Theda's star descended as quickly as it rose. In 1919 Bara sold her Tudor mansion to screen sensation Roscoe "Fatty" Arbuckle and the West Adams residents breathed huge sighs of relief. If only they knew what was coming.
By 1920, Fatty Arbuckle was the highest paid actor in the industry. He and his often estranged wife, actress Minta Durfee, went to work on the West Adams mansion, removing all traces of Theda Bara's ghoulish decor and sparing no expense. Sitting in the driveway of his home was his brand new $25,000 custom-made Rolls Royce, complete with built-in toilet in the back seat!
Arbuckle loved to have as much fun off-screen as he did in the movies, and he gave many parties at his new home. The guest list included such luminaries as Mack Sennett, Charlie Chaplin, the Talmadge sisters, and Mabel Normand. Arbuckle and his close friend Buster Keaton played many practical jokes on the studio heads who'd visit the West Adams house. At one party, Roscoe had Keaton playing a clumsy butler serving dinner to Paramount boss Adolph Zukor. Before Zukor knew what hit him, the turkey was off the silver tray and on his lap. Keaton then proceeded to calmly pour a pitcher of ice water into the lap of Paramount star Bebe Daniels. Arbuckle's raucous parties could be heard down the street at the Doheny mansion on Chester Place and Edward Doheny himself would walk over and pound on Arbuckle's door in frustration. Doheny offered to buy Fatty's home at top dollar but Arbuckle had no intention of appeasing the oil magnate.

In 1921, a young actress named Virginia Rappe died after attending a Labor Day party Arbuckle gave at a San Francisco hotel. Some of Rappe's shady friends spread some incriminating stories about the party and on October 7, federal agents appeared at Roscoe's West Adams home to arrest him for the sexual assault they believed led to Rappe's death. After three sensational trials, Arbuckle was acquitted of all charges, but the damage to his reputation was done. Instead of fans flocking to the neighborhood to get a glimpse of their favorite star, they now pelted his windows with stones, yelling obscenities about how Virginia had died. Arbuckle moved to a smaller house on the 3400 block of West Adams and rented his palatial home to director Raoul Walsh and his wife, actress Miriam Cooper. The next residents were producer Joseph Schenk and Norma Talmadge. Finally, Edward Doheny got his way and purchased the home for his in-laws.

The following year another scandal rocked the film world when director William Desmond Taylor was murdered in his home on South Alvarado. Among the suspects were Arbuckle's former leading lady, Mabel Normand, and several other young actresses who had had dalliances with the director. Los Angeles County Sheriff William Traeger, who lived on Halldale in West Adams, left no stone unturned in his quest to find the killer but the shocking crime was never solved. Traeger made a name for himself in the scandal and later became a U.S. Congressman, but several movie careers were ruined in the process.
In addition to the movie stars that came in and out of West Adams, the area was home to dozens of people who were instrumental in the development of the film industry. Henry C. Jensen, a former brickmaker who owned much of the land that became Harvard Heights, loved the movies but did not enjoy the uncomfortable nickelodeons that showcased them in the early years. Beginning in 1912, Jensen built and operated a chain of movie theatres in southern California, from Jensen's Theatorium on Sunset Boulevard to the magnificent Raymond Theatre in Pasadena. At the Raymond's star-studded premiere on April 5, 1921, Jensen shared the stage with Wallace Reid, the handsome and immensely popular star of the opening night film. Reid's death from a drug overdose two years later cemented Hollywood's reputation as a den of sin and vice. Coming on the heels of the Arbuckle and Taylor scandals, the event ushered in a new era heavy censorship and studio control.
Soon West Adams had its own movie palaces. In the early 1920s, neighborhood residents could be found lining up at the beautifully appointed West Adams Theatre (later the Fox Adams) on Crenshaw and Adams to swoon over their favorite movie stars. Famed architect Frank Tyler, who built many of the homes in the area and lived on Oxford Boulevard, brought his wife and young son Walter to many films. Walter couldn't get enough of the elaborate set pieces in popular epics by Cecil B. DeMille such as Why Change Your Wife starring Gloria Swanson or The King of Kings with H.B. Warner. Who knew that Walter himself would become one of the most celebrated art directors in the industry, working on films such as Roman Holiday, Sabrina, and A Place in the Sun. Tyler would eventually win an Oscar for his work on DeMille's Samson and Delilah.
Over at the lavish Arlington Theater on Washington Boulevard, 1920s patrons included screenwriter Helen Van Upp who lived in a lovely Craftsman bungalow on Arlington with her daughter Virginia. As a child star, Virginia Van Upp had acted opposite Rudolph Valentino and John Gilbert. By the time she was 17, she was an assistant director and later a screenwriter like her mother. Years later Harry Cohn would hire Van Upp as his second-in-command at Columbia, making her the most powerful female executive in Hollywood. Van Upp was responsible for catapulting the career of Rita Hayworth by having her perform the famous striptease scene in Gilda. Hayworth later complained to Van Upp: "It's all your fault! Every man I've known as fallen in love with Gilda and woken up with me!"
Another magnificent venue in West Adams was the Boulevard Theater on Washington near Vermont. Among the early patrons of this Spanish colonial palace was Charles Barton, an actor who would go on to direct popular war-time comedies such as Reveille with Beverly and What's Buzzin, Cousin? Barton would later become one of the most successful directors in the early years of television, helming such series as Leave it to Beaver, McHale's Navy, and The Munsters. Another local visitor to the Boulevard was sound pioneer Orlando Kellum. Partnering with D. W. Griffith in 1921, Kellum's "Photokinema" system was used to create a talking/singing prologue for Griffith's Dream Street, a full six years before AI Jolson sang from the screen in The Jazz Singer.
With all the scandals of the early 1920s, studio heads and actors seeking spiritual relief had only to stop in at the Harvard Heights home of Edgar Magnin, the rabbi of the newly built Wilshire Boulevard Temple. Magnin reigned as "rabbi to the stars" for over sixty years until his death in 1984. He was confidante to Hollywood personalities ranging from Irving Thalberg, Louis B. Mayer, Adolph Zukor, the Warner Brothers, Eddie Cantor, George Burns, Jack Benny, Milton Berle, and countless others.
As many of the movers and shakers began leaving West Adams for the greener pastures of Hancock Park and Beverly Hills, one major player took up residence in the late 1930s. Director Busby Berkeley purchased the magnificent Guasti Villa at 3500 Adams Boulevard and moved into it with his mother and her large collection of antiques. "It looked more like a museum than a home," Berkeley said later, "but it made her happy and that's all I cared about." He built a theatre in the basement so he could screen his films for his wheelchair-bound mother. On weekends, Berkeley hosted lavish parties at his estate and invited many of his stars to enjoy the stunning grounds. A typical party would find Mickey Rooney and Judy Garland serenading the likes of Jeannette MacDonald, Lew Ayres, Franchot Tone, and Hedy Lamarr. After a series of bad marriages and the death of his mother in the mid-1940x, Berkeley was forced to liquidate his assets and he sold his West Adams estate for a paltry $35,000.
West Adams experienced one more movie-related boon. For most of West Adams' history, restrictive covenants were in place that prohibited homeowners from selling to African-Americans. In the early 1940s, actress Hattie McDaniel (who won an Oscar for Gone With the Wind) broke the color barrier and bought a beautiful home on the 2200 block of Harvard. In 1948, the Supreme Court ruled that such segregationist covenants were unconstitutional, and more African-American stars, from Ethel Waters to Louise Beavers, flocked to West Adams Heights, the area where First A.M.E. Church stands today. This neighborhood was later dubbed "Sugar Hill."
Following World War II, many of the grand homes in Historic West Adams were torn down or converted into boarding houses. The construction of the Santa Monica Freeway in the early 1960s divided the neighborhood in two and led to further neglect. Today, thanks to a revitalized preservation ethos, the area is experiencing a major resurgence and a filmmaking boon. The splendid homes, many painstakingly restored, are among the most sought after locations for filmmakers in southern California. With the ghosts of Theda Bara, Fatty Arbuckle, and Busby Berkeley drifting through the streets and boulevards, the magic of the early days of filmmaking has returned to the community.