Fraudulent Demolition Dampens Holiday Cheer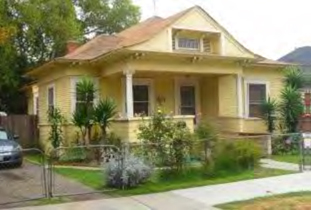 Dear WAHA members,
Above is the historic Victorian cottage that was demolished when the owners found out their permit was invalid and being revoked.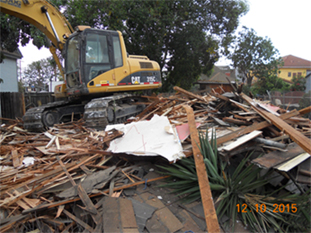 For all of the WAHA members who thought we would cheerily enjoy this holiday season without a lump of coal in our stockings, our season's cheer has been interrupted by a senseless and fraudulent demolition.
On December 10, University Park developers Henry Fan and Charles Kim, having been informed by Building and Safety that their demolition permit was invalid and was going to be revoked, directed their project manager-contractor Aaron Belliston of BMR Enterprises –to demolish the Victorian cottage at 1208 West 25th Street which had been identified by SurveyLA as a historic resource.
The developer filed for the demolition after a June 23 public Zoning Administrator hearing when his request to add 1236 square feet and a second story to this 1134 square foot, one and a half story Victorian cottage, under a CE (categorical exemption) did not result in an approval.
The developer and his agents were well aware that the permit was issued in error and invalid. It had two fatal flaws:
1)  If there is a pending discretionary action associated with the property, which there was, any demolition permit should be placed on hold until the proper environmental review is completed and a determination letter is issued by planning.
2)  Demolition of any property over 45 years old requires notice to the Council office, abutting neighbors and posting on site per Ordinance 183312. A permit application was submitted on 7/24/2015 and issued on 7/24/2015 in violation of the 30 day notice requirement.
On December 7, when Building and Safety acknowledged that "the notices were not mailed due to our error," the applicant was informed that they had no right to demolish the building.  On that same day, Building and Safety's Siavosh Poursabahian contacted the applicant and informed WAHA that "she (Caroline Wilson, assistant to Mr. Belliston) has agreed not to demolish the building and wait for 30 days."
On December 10, Building and Safety's Siavosh Poursabahian reported: "Despite all the telephone calls to the applicant (owner's agent and Project manager) not to demolish the existing single family dwelling due to existing pending City Planning case, the building was demolished today. The applicant called for inspection yesterday and the inspector mistakenly allowed the demolition to start."
When Mr. Poursabahian asked Mr. Fan why he went ahead and demolished the building, his response was that he had spoken to his lawyer and, since there was nothing in writing, he could proceed with the demolition.  Mr. Fan also informed the B&S staffer that he intended to build a duplex on the site.
When informed of the demolition, Ken Bernstein,  Manager, Office of Historic Resources & Principal City Planner, responded "we certainly hope that DBS does follow up and ensure there are consequences to this apparently willful disregard of the City's stop order."
WAHA asks that the Department of Building and Safety in consultation with the City Attorney undertake all civil and criminal measures available to the City under the Los Angeles Municipal Code and State law to enforce and prosecute Mr. Fan and Mr. Kim for this clearly egregious violation of City codes and the California Environmental Quality Act, including but not limited to the invoking of Section 91.106.4.1(10) of the Los Angeles Municipal Code, otherwise known as the "Scorched Earth Ordinance."
The core of our society relies on the respect and adherence to due process.  The willful and flagrant disregard for this must have serious repercussions.
This Historic Victorian cottage was deliberately demolished under a revoked permit.  
Help ensure there are consequences to this apparently willful disregard of the City's stop order by contacting Building and Safety and the City Councilmember.
Email and write Building and Safety and Councilmember Marqueece Harry-Dawson that the City should investigate and apply the "scorched earth" Ordinance:
Ray Chan, General Manager, raymond.chan@lacity.org 213 482-6800
Lincoln Lee, Code Enforcement Bureau, lincoln.lee@lacity.org  213 252-3904
Ken Gill, Assistant Chief, ken.gill@lacity.org 213 482-0440
Larry Galstian, Chief, larry.galstian@lacity.org  213 482-6712
Councilmember Marqueece Harris-Dawson, CD 8, Councilmember.Harris-Dawson@lacity.org 213 473-7008
 
Please copy preservation@westadamsheritage.org on your communications on this matter.