Ease On Down, Ease On Down the Road
Victorian Cottages Saved from Wrecking Ball, Find Safe Harbor in University Park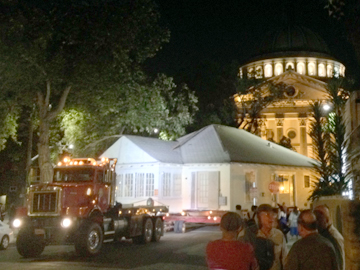 It's not every day you see a house heading down the street, but that happened twice in July just north of USC's University Park Campus.
The rare double house move will help preserve a pair of turn-of-the-century homes in University Park.
In the wee hours starting at midnight on Wednesday, July 22, and Thursday, July 23, the university relocated two historic buildings from Royal Street to a vacant lot on Portland Street.
The project is a collaboration between USC, the University Park Historic Preservation Overlay Zone, WAHA, and Southland Development, a for-profit organization that works to provide quality community housing.
The house moves insured that these homes would have some level of protection within an HPOZ. Many community residents (including stalwart WAHA members) showing up at midnight to watch the spectacle. John Patterson and Jeff Valdez were there. So was Roland Souza. Suzanne Henderson brought her young grandson, Andrew. Mitzi Mogul brought along her mother, Inez Mogul, age 94. Natalie Neith, Sergio Gutman, Lana Soroko, Rudolfo Acosta, Tom Florio, and Gary and Karen Kousnetz were among the spectators. Laura Meyers brought donuts both nights. Jim Childs served champagne. It was quite the party!
"The move was a true collaboration between the community (West Adams Heritage Association), the developer (Southland Development), the HPOZ (University Park HPOZ) and USC (University of Southern California)," said Childs, a member of WAHA's Preservation Committee.
In 2013, the university contemplated a project that would endanger the homes on their current site. The Preservation Committee members met with USC officials and were soon engaged in a discussion of moving the historic houses to another site, always with the hope that these houses could either be preserved in place or moved nearby for new productive lives.
In 2014, Southland Development Group purchased 2350 Portland Street, which had been a vacant lot for over 40 years. They had originally planned to do new construction, but were soon swept away with the preservationists' enthusiasm.
Childs credits Southland Development for having the courage to consider something "outside their box." He also credits USC for underwriting the cost of relocating the homes and CD9 Councilmember Curren Price for encouraging the parties to work together.
KUDOS too to American Heavy House Movers, whose amazing teamwork avoided trees, stop signs and even a BMW whose owner illegally parked in the path of the first night's house move.
"I don't consider myself a developer," added John Guell, President and CEO of Southland Development. "I am a problem solver and this was a classic example of solving a problem for everyone. It was such a win-win situation."
Childs agreed. "We are thrilled. There's a lot of good will and we are moving forward."