Annual Living History Tour - A Gathering of the Blue and the Gray - Saturday, September 27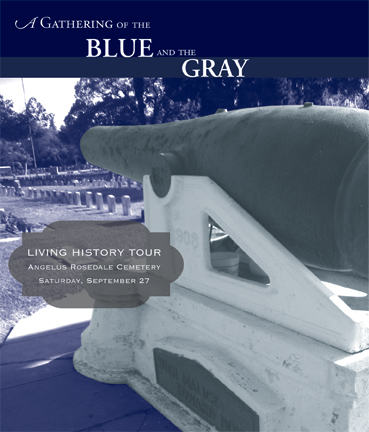 Living History Tour 2014
Angelus Rosedale Cemetery
Saturday, September 27
WAHA presents the 24th annual Living History Tour, with costumed actors, at graveside, portraying historic personages in one of L.A.'s oldest cemeteries. You'll meet witnesses to America's War Between the States:
Mary Davis Flournoy, Confederate President Jefferson Davis' cousin, and Lina Carlisle, President Abe Lincoln's cousin
Col. Allen Allensworth, escaped slave who joined the Union Army, became a chaplain, and founded the town of Allensworth, CA.
Margaret Meseroll Hayes, the last living Civil War nurse who died at age 101 in 1934
Lyman Stewart, who fought at Gettysburg, and later struck oil –– he was the founder of Union Oil Co., BIOLA college and the Union Rescue Mission
Louis F. Gottschalk, Union veteran, Missouri lawyer and legislator who served as the state's Acting Governor before moving West
Eliza Griffin Johnston, widow of famed Confederate General Albert Sidney Johnston, who died at the Battle of Shiloh
Harry Duffield, actor who made his first footlight bow at age 12 but ran away from home to become a Confederate drummer boy at age 13; he later spent a lifetime in the theater
Clay Beauford/Welford C. Bridwell, ran away (and changed his name) to join the Confederacy at age 14; later a Medal of Honor recipient for heroism in the Indian Wars; out West, he helped capture Geronimo, mentored the Apache Kid, and was friends with Doc Holliday.

Tickets (by advance reservation only)
$30 members
$35 general public (children under 10 free)
At the door (if available): all tickets are $35
Time Slots
We will have several guided tours departing within each slot and will assign one to you. The tours each last 2-3 hours. We will confirm your time via e-mail after September 15.

Early morning (departing between 9 a.m. & 10 a.m.) (Time slot is SOLD OUT)
Late morning (departing between 10 a.m. & 11 a.m.)
Mid-day (departing after 11 a.m.)
Angelus Rosedale Cemetery is located at 1831 West Washington Blvd. in Historic West Adams. This is a walking tour over uneven terrain; please wear comfortable shoes.
For more information: Phone: 323-735-WAHA, Email: tours@westadamsheritage.org.