WAHA presents the 2018 Holiday Tour & Progressive Dinner:
Hearthside in Harvard Heights
Saturday and Sunday, December 1 and 2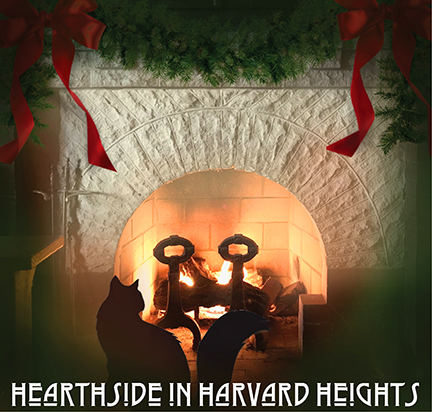 Please join WAHA "Hearthside in Harvard Heights" at our 32nd Annual Holiday Tour & Progressive Dinner!  This year's tour opens the doors to a half dozen historic Craftsman style homes – including the Lucy Wheeler Residence, designed by architects Greene and Greene – in the Harvard Heights neighborhood of the Historic West Adams District.
 
The Harvard Heights subdivision was announced in 1903, and soon the neighborhood was filled with the quintessential Craftsman homes that still attract residents today.  One of the most notable is the Wheeler Residence, designed by the architects (and brothers) Charles Sumner and Henry Mather Greene in 1905. Today, it is the only Greene and Greene home still standing within the city limits. Along with this landmark property, visitors will also tour Arts & Crafts style homes designed by architects Charles H. McGeorge and Frank M. Tyler.
 
The Hearthside in Harvard Heights Holiday Tour takes place on Saturday and Sunday, December 1 and 2, with the progressive dinner tours beginning at 3 p.m. each day and departing approximately every 30 minutes after that.  Please be sure to arrive early enough to tour the first house where you will be checking in.  A separate course of our festive holiday menu will be served at each house, and will feature appetizers (and champagne!), soup, salad, entrée with sides, and dessert.
 
There is also a self-guided Sunday Walking Tour from Noon to 3 p.m. Visitors will see the same historic houses, festively decorated for the holidays, but without the food.
 
No high heels or, especially, spike heels, please.  And be sure to wear comfortable shoes, as this is a walking tour.  Please note that the century-old homes on this tour are not ADA accessible.
TICKET SALES/TOUR TIMES
Please read this before purchasing your tickets:
For the Holiday Progressive Dinner tour, advance paid reservations are required; each tour group's participants are pre-assigned. This tour usually sells out well in advance.
 
Tickets
 
Early Bird Ticket Prices have ended.
 
All Progressive Dinner tickets are $90.
 
Sunday Walking Tour tickets are $30. Purchase online or at Check-In, 2175 Cambridge Street, Los Angeles CA 90006.
 
Progressive Dinner Tour Times
 
Tours depart at these stated times (so a quick reminder: if you plan to tour the Check-in House, you'll need to arrive before your stated tour group's departure time).
 
Saturday – 3 p.m. (SOLD OUT), 3:30 p.m. (SOLD OUT), 4:00 p.m., 4:45 p.m., 5:15 p.m., 6 p.m., 6:30 p.m (SOLD OUT).
Sunday – 3 p.m. (SOLD OUT), 3:30 p.m. (SOLD OUT), 4:00 p.m., 4:45 p.m., 5:15 p.m., 5:45 p.m., 6:15 p.m.
 
When you purchase your tickets, we also would like to know who is in your party (especially if they are purchasing tickets separately). We will confirm your purchase by e-mail but you may ALSO write us at tours @westadamsheritage.org to tell us your preferences, your friends' names plus their e-mail addresses, and any other important information.
 
We know that some visitors put together groups of eight or more. To guarantee your group will be together, we request that you reserve and e-mail us with that information no later than November 10. A Table of 8 will be $560 (WAHA members, $550), paid by November 10. Please e-mail us regarding group ticket pricing and purchasing options for more than eight tickets.
 
To purchase tickets using Paypal, select your date and tour time and click button below:

For the self-guided Holiday Walking Tour, without food, on Sunday, December 2, please note that the last ticket will be sold at 1:30 p.m. AND that the doors of all the homes will close to walking tour participants promptly at 3:00, so we recommend you arrive early. Purchase Holiday Walking Tour tickets in advance below or pay at the door of the Walking Tour Check-In, 2175 Cambridge Street.

You may also purchase tickets for either the Dinner or Walking Tour by sending a check made out to "WAHA" to: WAHA Holiday Tour, 2263 S. Harvard Blvd., Los Angeles CA 90018. Checks should be postmarked by November 20. Please also send an email to WAHA (tours @ westadamsheritage.org) telling us your preferred time slot, when you sent the check, and the number in your party, so we can hold your space(s).
Anyone wishing to volunteer to help with the tour should email volunteer@westadamsheritage.org.  We can always use docents, kitchen staff, servers, etc.
We look forward to seeing you Hearthside in Harvard Heights.
 
Please note:  Tickets for this tour are non-refundable (although they may be transferable). If you are unable to attend, your payment will be considered a donation to West Adams Heritage Association.  Please write tours@westadamsheritage.org if you have questions or concerns about this policy.