2008 Bob Bortffeld Award Goes to Pat Karasick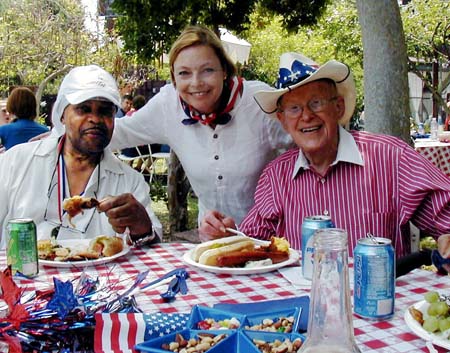 |center||0|Pat Karasick at July 4 picnic with Harold Smith (left) and Bob Buchanan|bottom||
The West Adams Heritage Association's highest honor, the annual Bob Bortfeld Award, was bestowed at our July 4 picnic on Pat Karasick, a longtime WAHA volunteer and former Western Heights resident now practicing her preservation skills from her home in Mar Vista. The award was a highlight of the annual event, held at the historic Tudor-Craftsman home of Roz Pina, on Victoria Park Drive. Ed Trosper, last year's winner, made the presentation.
>
"Volunteers such as Pat are the life's blood of WAHA,' said President Jim Robinson, following the presentation. "We are always in need of people to plan activities, research positions, write communications, and cook and schlep for our events. It takes a lot of hands-on work, and Pat has done it for 20 years. That is a tremendous contribution."
Pat's nomination came from her husband, Christopher McKinnon, who submitted the following description to judges Robinson, Trosper and Membership Director Candy Wynne.
* * *
I would like to nominate Patricia Karasick for the 2008 annual WAHA Bob Bortfeld Award. She has been an active member of West Adams Heritage Association since 1988. She and her husband lived for 10 years in a Frank M. Tyler-designed, Craftsman house in Western Heights and were known for providing a film-friendly environment to film and commercial producers. In the early `90's, they together saved from neglect, probate and criminal activity a beautiful, dilapidated, 1906 house across from them on 20th Street. They lovingly restored it and resold it for little profit.
Pat has volunteered many times for WAHA Holiday and Garden tours, serving as house or kitchen captain or docent. She is also known for promoting and caring for "her" LAPD Explorer cadets, who often served as tour safety and security. Pat has chaperoned the Post 714X Explorer Troop on many overnight trips to competitions, proudly returning to Wilshire Station with trophies. Pat has mentored one of their past cadets since early childhood.
Pat has served the greater community as the co-chair of the Wilshire Division Community Police Advisory Board, outlasting four captains in that position. She now serves as the co-chair of the Pacific Division CPAB. In 2007, she received the Wilshire Division Volunteer of the Year Award and was commended by Mayor Villaraigosa and others. She sponsored a youth basketball team, assisted in suppression of neighborhood criminal activity and is a past president of the Western Heights Neighborhood Association.
As an L.A. Unified elementary teacher and now a retired literacy coach, Pat also mentored several West Adams neighborhood children, instructing them in the sewing, cooking, gardening and graffiti paint-out arts. Her inspiration has steered them on a path to volunteerism, and three of them started college majoring in Psychology.
Pat created several neighborhood murals and was known in the greater Wilshire area for painting vines as a method of graffiti abatement. She was involved in garden projects at Saturn Street School, 24th Street School and Western Heights, introducing drought-tolerant plantings at her own home. She is an avid recycler and a longtime L.A. Conservancy member. Pat currently lives and continues her community and restoration activities in Mar Vista, a western outpost of West Adams. She and her husband live in a restored 1920s-era California Bungalow.