Period "Dollhouse" Takes to the Road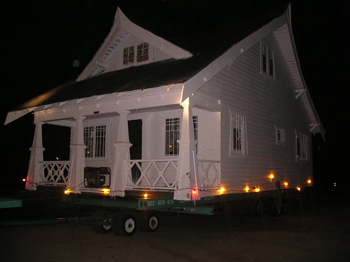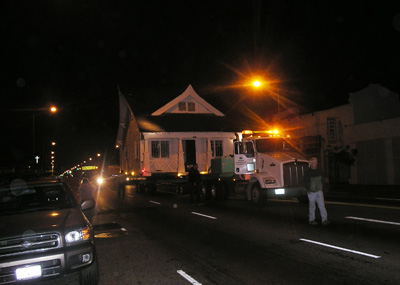 Lone Washington Blvd. survivor moved from pending school site to new location in Harvard Heights.

As you drive down Washington Boulevard between Arlington and Crenshaw, no doubt you have seen the giant empty lots with one lone house – nicknamed "the Dollhouse" – still standing toward the back. Now, we are happy to report, the house, which has architectural elements similar to the landmark South Seas House a few blocks away, has trucked on down the road to Harvard Heights, where it is now set in the backyard of a historic house.
WAHA and United Neighborhoods Neighborhood Council (UNNC) worked very hard to save this house, along with other architectural remnants from the site, which is being cleared to make way for the construction of another new LAUSD elementary school. In the wee hours of Thursday morning, March 6 – well past midnight – this cottage was slowly pulled out of its dirt field, and onto Washington Boulevard, traveling over the next hour or so east along Washington, turning north on Western, and then east again for about 100 feet on Venice Boulevard. The house movers had arranged with the business owner at that location to drop his fences so that they could nudge the dollhouse through a former alley onto its new site. Kudos to all involved in the effort: Stacey Anthony, Derek Tennell, Eric Bronson, Michele McDonough, David Raposa, Sylvia Lacy, and Ted Hollinger of Master Housemovers.