WAHA Receives Governor's Historic Preservation Award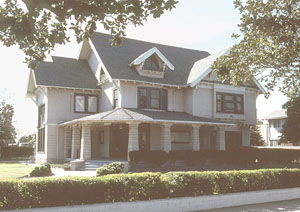 |right||0|2302 W. 25th Street - Six Feet Under house|bottom|right|
Sacramento ceremony lauds "Evening Strolls" in West Adams neighborhoods.
WAHA treasurer Jean Cade and board member Gail Peterson joined with fifteen other California preservation organizations, nonprofits, state agencies, and city governments at the elegant Leland Stanford Mansion in Sacramento November 16 to receive the annual Governor's Historic Preservation award. The West Adams Heritage Association was chosen this year for its innovative program of Evening Strolls begun in 2004 by former WAHA president Jefferson Davis.
These summer evening events are guided walking tours enlivened by an espresso cart dispensing free coffee. For example, a 2005 stroll through North University Park highlighted the Doran Residence on West 27th Street, occupied in the early 1900s by Rev. Jose Elias Montoya, who led a movement to nationalize the Catholic Church in Mexico to wrest it away from the Vatican. In the 1950s its owner was Melba Meeks, also known as Princess Red Feather of the Shoshone Indian tribe, a direct descendent of the Indian maiden who led the Lewis and Clark expedition. Other houses in the neighborhood included the birthplace of Adlai Stevenson, U.S. ambassador to the United Nations and two-time presidential candidate.
A stroll through Lafayette Square pointed out the former homes of theater impresario Alexander Pantages, university founder George Pepperdine, boxer Joe Louis, architect Paul Williams, and Princess Conchita Pignatelli, former society editor for the Herald Examiner newspaper.
Participants in a walk through the West Adams Avenues had their attention called to a house said to have been built by silent film star Ramon Novarro for his brother; the Wilfandel Club, a noted social club for African American women; as well as the house portrayed as Fisher & Sons Mortuary in HBO's famed series "Six Feet Under." The Six Feet Under House is actually the former home of Philippine general and presidential candidate Hilario Camino Moncado and is today the headquarters of the organization he founded, the Filipino Federation of America.
The award ceremony in Sacramento was presided over by Ruth Coleman, director of California State Parks and Milford Wayne Donaldson, State Historic Preservation Officer. Some of the other awardees this year included the California Department of Transportation for its prehistoric research at the Black Creek site; the Stanford Historical Society for a project on historic faculty homes on the Stanford University campus; the city of Huntington Park for its historic preservation ordinance; a project for restoration of 1906 earthquake refugee shacks; the California State Parks for rehabilitation of historic cottages in Crystal Cove; the Point Cabrillo Lightkeepers Association and the California State Parks for rehabilitating lightkeepers residences; and the Leland Stanford Mansion Foundation for rehabilitating the Leland Stanford Mansion where the award ceremony was held.