Thomas J. Furlong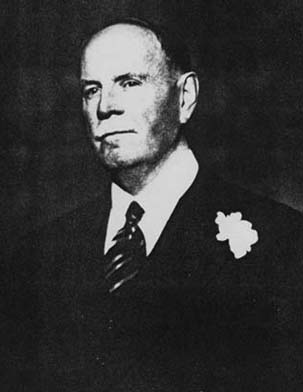 Cofounder and long-time treasurer of the industrial city of Vernon.


1872-1950. A founder and long-time city treasurer of the pioneering industrial city of Vernon. Thomas J. Furlong was born on a ranch in what is now Compton to Robert Furlong and Martha Kehoe. He was the eldest of three, his brother James and sister Annie. In 1881 the family moved to a ranch in what is now Vernon, at 2048 E. 52nd Street, where another sister, Judith, was born. Thomas's father Robert died that same year, when Thomas was 9 and his brother James was 5. After this their uncle managed the ranch, which adjoined his own until they were grown.
In 1904 Thomas Furlong married Kate (Catherine) Conneally and built a home for her on the Furlong ranch. In 1905 Thomas and his brother James joined with local store owner French Basque immigrant John Baptiste Leonis (1872-1953), and a few local farmers to buy up local farmland and incorporate the city of Vernon , under the slogan "Exclusively Industrial." The eventual boundaries of the City of Vernon ran from Alameda on the west to the Los Angeles River , and from 25th Street and Washington Blvd. on the north to Slauson. Uniquely, Vernon was from shortly after its inception the virtual private property of Leonis and the two Furlong brothers. It was conceived as an industrial city with few or no regular residents. Vernon for the century after 1905 has been a center of industrial and meat packing for Los Angeles. In recent years some 70,000 people work there, but there are fewer than 250 residents, virtually all of them city employees. Thomas J. Furlong served continuously as City Clerk and Treasurer of Vernon from 1907 until his death in 1950. His brother James Furlong served as Mayor of Vernon from 1907 until his death in 1941. He was succeeded as Mayor by John B. Leonis, who was in turn succeeded by Robert Furlong (1908–1974), the son of Thomas J. Furlong. Even today Vernon is governed by Mayor Leonis C. Malburg, grandson of John B. Leonis.
Thomas Furlong and Kate Conneally had four children, Robert, Mary, and the twins Martha and Catherine. In 1921 they moved to a house at 2657 S. Van Buren Place in West Adams, in which the Furlong family lived for the next 37 years.
In the early days Vernon offered free land to factories, beginning in 1905 with two factories, two lumber yards, and a few pig farms. (It is now the home of the Farmer John meat packing plant.) By 1927 there were 300 factories or other industrial enterprises employing more than 20,000 workers. The growth continued in later years, reaching 950 factories in 1961 and employing 10% of the total workforce of Los Angeles .
Under the Furlong-Leonis team, in addition to its rail yards and factories, Vernon became the sporting center for Los Angeles. In 1908 the Vernon Arena was constructed at 25th Street and Santa Fe Avenue. It was a 15,000 capacity stadium that became the Los Angeles center for world championship boxing matches. Jack Doyle's Saloon at Santa Fe and 38th Streets was famous as "the longest bar in the world," with 37 bartenders, all imported from Ireland . Vernon even founded its own baseball team, the Vernon Tigers, who were three-time winners of the Pacific Coast Baseball League pennant. They defeated the Saint Paul team to win the American Association pennant in 1919. The town's nightlife faded away during Prohibition but it remained the industrial center of Los Angeles .
Vernon was also known for Poxon Pottery and the Vernon Kilns, which produced dishes and commemorative plates under the name Vernon Ware. Both were founded by George Poxon, who had married Thomas Furlong's sister Judith. The kilns were located on the Furlong ranch in Vernon.
Thomas died in 1950. His son Robert, the Mayor Vernon, and daughter Catherine lived on in the house on Van Buren Place until 1958.