Dora Fellows Haynes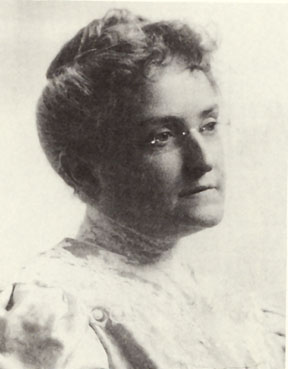 Important figure in winning the vote for women in California. Cofounder of the John Randolph Haynes and Dora Haynes Foundation.


1859-1934. Dora Fellows was born and grew up in the coal mining region of Pennsylvania. Her father, like her future husband's, was a mine manager, and the two families were friends. John and Dora married in 1882 after Dora returned to Pennsylvania from a year's attendance at Wellesley College. Their only child, Sidney, died at the age of three of scarlet fever, an event that motivated the couple's move across country to the budding metropolis of Los Angeles. There, John set up a medical practice and entered into business as a real estate investor. He and Dora established themselves in local society. Dora assisted in her husband's medical office and hosted social gatherings at home. She joined the Friday Morning Club, the Ruskin Art Club, and other groups involved in cultural and civic affairs.
Like her husband, Dora became a prominent activist in the Progressive movement. As a charter member of the Friday Morning Club, a discussion and service organization founded by Caroline Severance, that gradually became involved in civic affairs, Dora worked with other influential women in support of progressive objectives. Her particular concern was women's suffrage, and by 1909 she was considered to be one of Los Angeles's prominent suffragists. In the 1911 state vote on constitutional amendments including women's suffrage, Dora Haynes was a prominent campaigner for the vote for women, confronting strong opposition from the Los Angeles Times and various male organizations. Dora served as treasurer of the Political Equality League, which campaigned for the state female suffrage amendment. The amendment passed by a narrow margin.
Always in fragile health, she was hospitalized in late 1912 and spent most of 1913 virtually bedridden. In 1917 she got her husband to appeal to President Woodrow Wilson's secretary to urge the president to release suffragist Alice Paul, who had been jailed for picketing the White House.
In June 1919 she hosted a meeting of suffragists at her home to plan the founding of the California League of Women Voters. Dora Haynes was elected as the organization's first president. In later years she served as treasurer and historian of the Los Angeles branch. Tom Sitton writes that she stated in a newspaper article that "many housewives knew more about political subjects than their husbands." She also lobbied members of Congress in support of an equal rights law.
Although declining health limited her involvement as the decade advanced, Dora found time and strength to help direct the local league and remained active in Friday Morning Club causes. Reaching their early seventies, John and Dora began to consider how to preserve their considerable fortune -- some $2 million -- to continue after their deaths to sustain causes they supported. In September 1926 they cofounded the John Randolph Haynes and Dora Haynes Foundation.
Dora's health deteriorated seriously after 1929 when, according to her husband, she developed Hodgkin's Disease that kept her bedridden at the end of her life. On November 23, 1934, she died in their house at Figueroa and Adams and was buried in the family plot at Rosedale Cemetery. She left $140,000 to the Haynes Foundation, which was the majority of its available funding at the time.
--compiled by Leslie Evans, mainly from the book
"John Randolph Haynes: California Progressive"
by Tom Sitton (Stanford University Press, 1992)