WAHA's Holiday Progressive Dinner Tour - December 3 & 4, 2016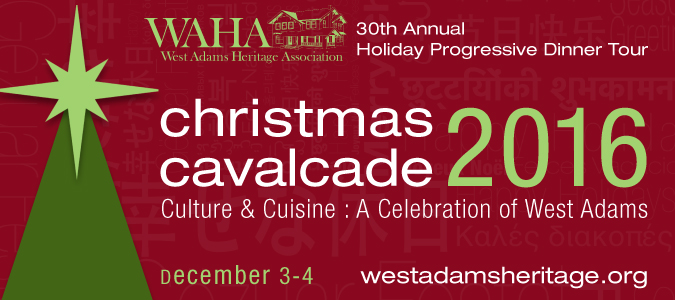 December 3 and 4, 2016
This coming holiday season the West Adams Heritage Association (WAHA) is planning to celebrate our 30th Annual Holiday Progressive Dinner Tour in the Western Heights neighborhood of Historic West Adams. Having been voted Curbed LA's 2016 Neighborhood of the Year, WAHA is choosing to celebrate the multi-cultural diversity that is West Adams today.
Thank you to all who have supported WAHA by purchasing tickets to attend our Annual Holiday Progressive Dinner Tour.
The Check-In location for your tour is: 2101 S. Gramercy Place 90018
The time of your Tour is the Departure time to begin the Progressive Dinner. Please be sure to arrive 30 minutes before in order to view the magnificent "Marvin Gaye" House before your tour begins.
TICKETS AVAILABLE AT THE DOOR for Sunday Walking Tour from 12 noon to 2:00 p.m.
Guests may arrive at the Check-in location above and purchase tickets for the Sunday Walking Tour.  Cash or checks, please.  Advance ticket purchases check in at the same location.

Looking forward to sharing with you one of the many fantastic neighborhoods of Historic West Adams.
Our Holiday tour is a unique architectural experience, in that our guests partake of a different dinner course at each stop along the way.  Appetizers and champagne are served at the first house, followed by Soup and then Salad.  Our sumptuous dinner takes place in a large dining pavilion set in the back garden of one of our larger estates.  The evening concludes with a delightful serving of dessert and coffee, often prepared by a local pastry chef.
West Adams is filled with restaurants serving food from all over the world.  WAHA is organizing this year's tour to feature a different ethnic taste at each house our guests will visit. This tour is an opportunity to view the interiors of several historic homes, all the while, making a culinary world tour walking just a few blocks.

Your support of preservation through your WAHA membership can mean big savings – plus all the other benefits our organization offers!
Special thanks to our media sponsor


View our partnering restaurants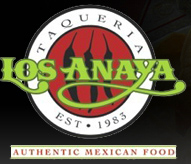 Taqueria Los Anaya
4651 West Adams Boulevard, Los Angeles, CA 90016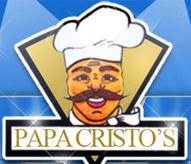 Papa Cristo's
2771 West Pico Boulevard, Los Angeles, CA 90006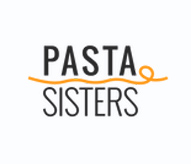 Pasta Sisters
3343 West Pico Boulevard , Los Angeles CA 90019