25th Annual Holiday Tour & Progressive Dinner: Silver Jubilee Celebration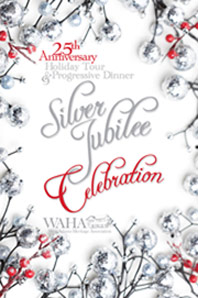 Originally envisioned by George L. Crenshaw as one of the region's premier real estate tracts before the area even became a part of Los Angeles in 1909, Lafayette Square's design was based on European cities, inspired to bring a feeling of tradition and graceful style not widely found in a very young Los Angeles.
Crenshaw's son Charles described the Square, and its central drive, St. Charles Place, as "a 'Spanish pasear,' a place where residents could stroll and meet socially." Over time, Lafayette Square became home to many of Los Angeles' luminaries including George Pepperdine, Sepulveda family descendent Princess Conchita Pignatelli, Fatty Arbuckle, Alexander Pantages, Norton Simon, boxer Joe Louis, singer Little Richard, and architect Paul R. Williams.
Come with us this holiday season to experience the founder's vision, as we stroll door to door, and socialize over a sumptuous meal, served one course at a time in each of the lavishly-decorated homes we visit.
Prepaid Reservations are required for the Holiday Tour & Progressive Dinner.
The Holiday Tour & Progressive Dinner lasts about three hours.
No high heels, please.