W.C. Fields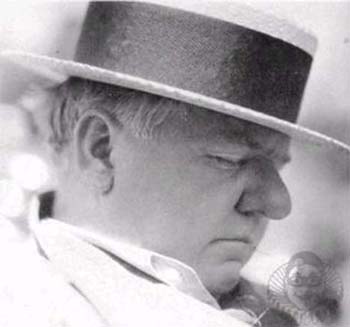 Much imitated film comedian known for his curmudgeonly wit.


1879-1946. William Claude Dukenfield was born in Philadelphia to Cockney immigrant James Dukenfield and American Kate Felton. William dropped out of school after four years to work with his father selling vegetables from a horse cart. His father beat him often so William left home at eleven, living in a hole in the ground and stealing his food and clothing. At thirteen he got a job delivering ice, and began to practice juggling, an art at which he became extremely skilled. At fourteen he was hired as a juggler at Fortescue's Pier in Atlantic City , New Jersey . He went on to become one of vaudeville's most successful performers, billed as "W. C. Fields, the Eccentric Tramp Juggler."
Unlike the acerbic patter that marked his style in sound films, W. C. Fields' juggling act was completely silent. When he was about 21 he got a job with the Orpheum Circuit in New York . Here he met and married dancer Harriet Hughes. In his act Fields' specialty was the apparent mistake - dropping a hat seemingly by accident, and retrieving it at the last second by a second apparent accident. He could kick a top hat up to a stick balanced on his forehead. One juggling feat he did was to balance a top hat, cigar, and brush on his foot, then kick them up with the hat landing on his head, the cigar in his mouth, and the brush in his pocket.
He and Harriet had a son, W. C. Fields, Jr., in 1904, shortly after which they separated. Fields supported his wife and son to the end of his life, but they did not live together. In 1913 during a tour of Europe Fields played the Palace Theatre in London , where he was seen by King Edward VII, who invited him to Buckingham Palace , where Fields performed with Sarah Bernhardt.
In 1915, Fields signed with the Ziegfeld Follies and appeared in it each year through 1921. Also in 1915, already 36 years old, Fields made his first film, "Pool Sharks," an overhead filming of a comedy routine he had developed in which he used invisible wires to drop every ball on the pool table into the pockets with a single stroke.
Fields was completing his transition to comedy in this period, which was solidified by a year starring in the musical "Poppy," which opened in New York in 1923. Two years later he starred in a film version of "Poppy" by D.W. Griffith under the title "Sally of the Sawdust." For several years Fields made movies in New York, moving to Los Angeles in 1931. According to the Los Angeles Conservancy and the Los Angeles Times, he lived, at least for a time, in West Adams in the Lafayette Square development of George Crenshaw. Later he bought a house in the Los Feliz area across the street from Cecil B. De Mille. Fields made 37 films, mainly for Paramount , but after 1939 for Universal. He was 50 when he made his first talking picture, and is remembered for such comedy classics as "My Little Chickadee," "The Bank Dick," and "Never Give a Sucker an Even Break." He also was a fixture on the Edgar Bergen and Charlie McCarthy radio show.
Fields was a loner with only one known close friend. He was self-conscious because of roseacea, a skin condition that made his nose and hands red. He perfected the image of an acid tongued alcoholic in his films, but actress Louise Brooks, who knew him well, denied the common opinion that Fields' film character reflected his arrogance. Instead, she wrote, he cultivated his screen persona out of "the clutching fear of being discarded to die on the Hollywood rubbish heap." Fear of rejection led him to his solitary life, focused on his work and drinking. Fields suffered from various reputedly alcohol-related illnesses all of his adult life. He died on Christmas Day, 1946.