WAHA and UNNC Seek to Salvage Homes from School Site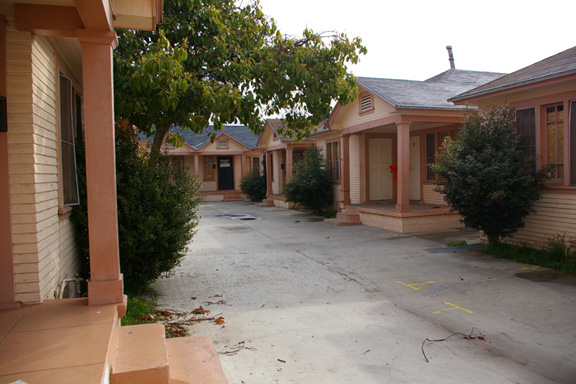 Classic bungalows available to be moved, or to at least save some fixtures.
The West Adams Heritage Association along with United Neighborhoods Neighborhood Council (UNNC) have been working diligently with the Los Angeles Unified School District (LAUSD) to move or salvage the homes slated for demolition at the new Washington Street School located on Washington Blvd. just west of Arlington. While initially rebuffed, the community rallied with the help of school board member, Marguerite Poindexter LaMotte, to force the LAUSD to work with us to help save the houses. Our goals are two fold - salvaging our historical heritage and keeping these items out of landfills.
While the plans are still being worked out, we have toured the homes and made a list of houses to move and items to salvage, including, windows, doors, hardware, built-ins and cabinets, siding, flooring, etc., from structures that will not be moved. We are working with community members to move at least two of the houses. There are still some wonderful little bungalows that are available for moving if you have room in the back of your house. (756 square footages - 36 feet by 24 feet) If you are interested, you must act now. Please be aware there are many governmental hoops to go through and probably no more than 3 or 4 months to do so.
1. Contact Eric Bronson ( eb@birdmarella.com ) and tell him you are interested. He will notify you of important dates and time frames.
2. You can view the bungalows at Third Avenue and Washington - they are the fenced-in bungalow court just south of Washington. We will attempt to arrange an opening of the houses with the LAUSD in the near future.
3. Please be aware that it will cost around $13,000 to move the house to your lot, more if you are far from the location. Electrical and utility lines are around $600 dollars to move if needed. These bungalows are likely small enough not to require movement of the lines. In addition, a foundation meeting current codes would be required, which itself will likely cost in excess of $12,000, as well as upgrades to the electrical, plumbing and HVAC systems.
4. There are more expenses in moving the houses, including city and permit fees. Those fees can be very expensive, especially if you have zoning issues on your lot. Zone changes take time and money. (It is very important for you to visit the City Planning Department's Zoning Information and Map Access System website and check the permitted dwellings for your lot: http://zimas.lacity.org/search.asp. Also check with the Department of Building and Safety to find out the limits of what you can do on your lot. Get the facts first.)
Please watch this website for updates.
Best
Jefferson Davis, WAHA President