WAHA Living History Tour 2017 - The Artist's Way

The Artist's Way:
Poets and Painters, Songsmiths and Singers
The 27th Annual Living History Tour at Angelus Rosedale Cemetery
Saturday, September 23
Tours depart from 9 a.m. until Noon
They made music…and art, poetry, photography and dance.
And now their stories will come alive at the landmark Angelus Rosedale Cemetery at the Annual Living History Tour on Saturday, September 23, as we explore the lives of the many poets, authors, singers and musicians, photographers, architects and other creative souls who are among the permanent residents of the cemetery.
With the cemetery as their stage, actors, in costume and at graveside with set vignettes, will give first-person portrayals of some of the people who are buried there, including a Victorian era poet; a pioneer musician and record label owner; and a noted photographer, among others.
Los Angeles has long been home to many who look to the Nine Muses as their inspiration.
There were artists. In 1890, the Los Angeles School of Art and Design was offering classes (soon, painter Zetta Behne Richardson was among the students) and had organized the Sketch Club. By 1895, several rival art associations had formed, including the new Society of Fine Arts of Southern California, led by J. Bond Francisco.  Painters like Richardson and Bond could explore all manner of natural riches, giving birth to the Plein Aire Movement.
There were photographers. Los Angeles's first photo studios dated back to the late 1860s, and by the early 1900s many photographers earned their livings capturing portraits of both city life and its diverse citizenry. There were writers who chronicled the story of Los Angeles, and poets whose verses were routinely published in the newspapers of the day.
This year's Living History Tour will also evoke more than a century of music, from early ragtime and barbershop tunes to early New Orleans jazz and Harlem Stride Piano, along with swing, jive and, later, Mod/Ska. Dozens of musicians are buried at Angelus Rosedale Cemetery, and visitors will meet several of them.
The artists in repose to be portrayed this year are:



• Dorothea Durham Kelson, a popular exotic interpretive dancer, appearing as the headliner under the stage name "Garbo" at such nightclubs as the legendary Sebastian's Cotton Club in Culver City; she was a featured dancer in Duke Ellington's groundbreaking musical/comedy "Jump for Joy."
• Samuel Holland "S. H. Dudley" Rous, who toured with light opera productions in the 1880s before finding his niche as the baritone with the Edison Quartet, making early recordings of such sweet melodies as "Sweet Adeline," "In the Good Old Summertime," and "Meet Me in St. Louis" just after the turn of the century.

• J. Bond Francisco, one of the founders of the Los Angeles Symphony in 1897 and a painter who was the "dean" of Los Angeles artists in his time. He will be joined in his studio by Zetta Behne "Z. B." Richardson, a contemporary of J. Bond Francisco's who was recently featured in the book, "Emerging from the Shadows: A Survey of Women Artists Working in California, 1860-1960." Behne started painting as a child and by 1892 was earning a living as an artist.

• Clyde Grimes, Jr., innovative guitarist, songwriter, singer and co-founder of the Mod group, The Untouchables, a pivotal band in L.A.'s 2-Tone Ska Revival scene of the 1980s and 1990s.

• Marthesta Robertson Ponder, an African American singer, pianist, and part of the musical comedy duo "Martha Davis & Spouse" who was popular in the 1940s and 1950s. She was influenced by Fats Waller.

• Aneurin Jones, a popular Welsh poet whose bardic name was Aneurin Fardd. In 1857, Jones helped re-establish the ancient annual poetry and music competitions known as the "Eisteddfod," an annual event that continues to this day in Wales. After coming to America, he practiced as an architect and was supervising landscape architect in New York's Central Park and Prospect Park in Brooklyn.

• Alberta Johnston Denis, the daughter of a Civil War general killed in the War who went on to author books on early California and, later, a memoir of her travels in Kashmir illustrated with her own photographs. She and her husband were also donors to the fledgling institution that became the Los Angeles County Museum of Art.

• Arthur Laider MacBeth, a pioneering African American photographer who opened his first studio in Charleston, South Carolina in the 1880s, and another successful photography business in Baltimore in 1910, before moving to Los Angeles.


• Johnny C. Spikes, a musician, composer, music store proprietor in the 1920s, and record label owner. Johnny and his brother Reb Spikes wrote the lyrics to Jelly Roll Morton's "Wolverine Blues" and their own composition, "Some Day, Sweetheart," which became a jazz standard.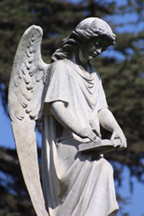 Rosedale Cemetery (now Angelus Rosedale) was founded in 1884, when Los Angeles was a small town and its location at what is now the corner of Washington Boulevard and Normandie Avenue was in the countryside, outside the city limits. It was the first cemetery in Los Angeles open to all races, faiths, and creeds, and it was the first to use a new approach in design called "lawn cemeteries…where nature and art conspire to surround the burial places of the dead with beautiful trees and flowers, natural scenery and works of monumental art."

Angelus Rosedale Cemetery is also home to generations of Angelenos from every walk of life. Each year, WAHA tells some of their life stories while touring the historic grounds with the cemetery's elaborately-carved monuments.  In this way, the Living History Tour helps educate the citizens of Los Angeles about our history, and the community's cultural heritage.


TICKET SALES/TOUR TIMES

Please read this before purchasing your tickets.

Tours will depart approximately every 20 minutes, beginning at 9 a.m. (Advance paid reservations are required; each tour group's participants are pre-assigned. This tour usually sells out. A limited number of tickets may be available on the day of the tour, space available basis.)

Tickets

Online sales are closed. There are a few day-of-purchase tickets available, after 10 a.m for $40. Last ticket will be sold at 11:30.


Time Slots
When you purchase your ticket, please indicate which general time slot you prefer. There are several guided tours departing within each slot and one will be assigned to you in mid-September. We also would like to know who is in your party. We will confirm your purchase by e-mail but you may ALSO write us at tours @ westadamsheritage.org to tell us your preferences, your friends' names and any other important information.


Early morning (departing between 9 a.m. & 9:45 a.m.) - SOLD OUT
Mid-morning  (departing between 9:45 a.m. & 10:30 a.m.) - SOLD OUT
Late morning (departing between 10:30 a.m. & 11:15 a.m.)
Mid-day (departing between 11:15 a.m. & Noon)
 
Please note: Angelus Rosedale Cemetery is located at 1831 West Washington Blvd. in the Historic West Adams District. The tours each last 2-3 hours. This is an outdoor walking tour over uneven grounds, and the cemetery is also slightly hilly; please wear comfortable walking shoes and sun protection.


| | |
| --- | --- |
| | |
| | |